HeroClix Home Page
Message Board
Clix Chat
News Page

Clix Game
Click of the Day
Top 10 Lists
Tips & Strategies
Custom Scenarios
Custom Clix
Tourney Reports

Resources
Inventory Spreadsheet

Other
Staff


Magic
Yu-Gi-Oh!
DBZ
Pokemon
Yu Yu Hakusho
NeoPets
HeroClix
Harry Potter
Anime
Vs. System
Megaman
This Space
For Rent

HeroClix "Click of the Day"
Visit our Message Board where you can trade HeroClix,
and discuss this game with other Clix fans!
Top 10 Figures of 2008:
#10 - Nightwing
DC Crisis

Reviewed 02.09.2000
Average Rating: 4.00
Ratings are based on a 1 to 5 scale - 1 being the worst. 3 ... average. 5 is the highest rating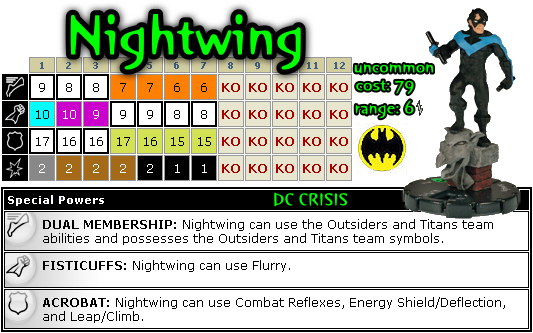 Rurouni KJS
Hello, loyal Pojo Heroclix fans. It's been far too long, but your favorite (?) HC reviewer is back with a Top Ten of 2008 list. CRISIS (released Feb. 2008), BATMAN ALPHA (May), SECRET INVASION and FANTASTIC FOUR (July), and ARKHAM ASYLUM (Oct) all qualify.

For each selection I'll include up to 10 reasons it made my Top Ten (or at least try to). For pieces already reviewed, I'll include links to the original review.


#10
Nightwing

I reviewed Nightwing last March (http://www.pojo.com/heroclix/COTD/2008/Mar/04.shtml). His rating of 4 holds pretty firmly. I had seven reasons for putting him on this list:

1. 3 Team Abilities (AND corresponding team symbols).
His natural Bat-Stealth and Special-Power-granted Outsiders and Titans symbols give him great flexibility for team-building. Nice to have the healing option of Teen Titans or the mini-outwit ability of Outsiders for a few clicks. Which leads to the next thing...

2. He can't lose his best TA.
Perma-stealth makes his SP-granted ESD and Combat Reflexes hard to deal with...

3. ...giving him an effective 19 DV.
Only a few characters can circumvent this, making him a tough KO, especially when he's played to support other pieces.

4. Very feat-friendly.
Thanks to his Bat-Stealth, he can safely affect the field with Contingency Plan. Or, with a push, Brillian Tactician. Similarly, his multiple team symbols give him unparalled flexibility with Inspiring Command (or Mercenary, on other pieces). Or, if you want to use him more aggressively, try Takedown or Stunning Blow. To THAT end...

5. ...he's very mobile.
Leap/Climb all dial long gets him in and out of trouble nearly at will.

6. He's tough down his dial.
Even after taking hits, the Flurry-granting SP "Fisticuffs" and Outwit make him dangerous both in close and afar.

7. All for 79 pts.
Even equipped with the expensive BT feat, he's still under 100 points.

His damage is a bit low for his cost, so he's low on the list. But he's got so much to offer -- mobility, support, offense, featability and high defense -- that he deserves a spot.

Be here next time for #9!

Copyrightę 1998-2009 pojo.com
This site is not sponsored, endorsed, or otherwise affiliated with any of the companies or products featured on this site. This is not an Official Site.