HeroClix Home Page
Message Board
Clix Chat
News Page

Clix Game
Click of the Day
Top 10 Lists
Tips & Strategies
Custom Scenarios
Custom Clix
Tourney Reports

Resources
Inventory Spreadsheet

Other
Staff


Magic
Yu-Gi-Oh!
DBZ
Pokemon
Yu Yu Hakusho
NeoPets
HeroClix
Harry Potter
Anime
Vs. System
Megaman
This Space
For Rent

HeroClix "Click of the Day"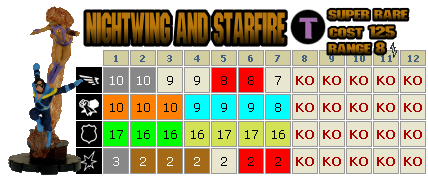 Nightwing & Starfire - DC Crisis
Reviewed 03.20.2008 - Average Rating: 3.00
Rurouni KJS
Unique Nightwing & Starfire
wing speed duo
125 points
Team: Teen Titans
Keywords: Detective, Teen Titans, Warrior
Range: 8 x 2

DIAL & CARD:


STRENGTHS:
Starting with Running Shot's never bad. Neither is 2x EE and, later, double Incapacitate, all with a workable 8 range. They also have a very steady 10 AV (bolstered by Perplex on clicks 2-4) that slips to 9 by mid-dial and finally to 8 on their last click.
Flurry in the middle and Ranged Combat Expert at the end give more ways to bump up their damage potential when the Perplex gives out. With either Energy Shield Deflection or Combat Reflexes and a DV never below 16-17, they aren't an easy shot.

WEAKNESSES:
Defensively soft, NW+SF don't really deliver the kind of punch expected from a figure of their cost. This is partly because the duo mechanic is a power action that grants two combat ATTACKS and thus rules out combinations with other power actions such as Running Shot along with ranged/close combat actions Energy Explosion or Flurry. Essentially, at any given time you'll only get half their potential power. Feh.

CARDS?
Consequently, you'll want to use ARMOR PIERCING every time you play this duo to get the most from every action you make. NANOBOTS works on every click but the first. Speaking of which, if you really think you can keep that first click, either INSPIRING COMMAND or CONTINGENCY PLAN is a fit...but I wouldn't use either unless I've build one kickasphalt team to protect them.

IN SUM:
They're not bad. This star-crossed couple with the gorgeous sculpt can deliver the goods somewhat. Just don't expect them to pull their full points weight alone. A lightweight tentpole, they are NOT.

RATING: 3 of 5.

Copyrightę 1998-2007 pojo.com
This site is not sponsored, endorsed, or otherwise affiliated with any of the companies or products featured on this site. This is not an Official Site.