HeroClix Home Page
Message Board
Clix Chat
News Page

Clix Game
Click of the Day
Top 10 Lists
Tips & Strategies
Custom Scenarios
Custom Clix
Tourney Reports

Resources
Inventory Spreadsheet

Other
Staff


Magic
Yu-Gi-Oh!
DBZ
Pokemon
Yu Yu Hakusho
NeoPets
HeroClix
Harry Potter
Anime
Vs. System
Megaman
This Space
For Rent

HeroClix "Click of the Day"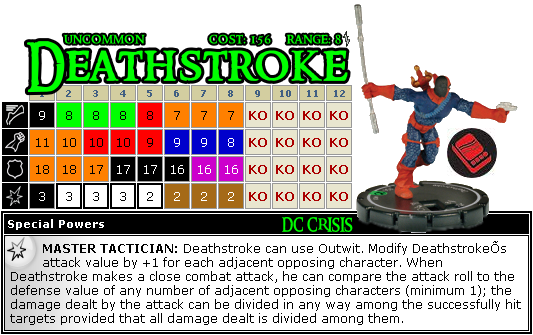 DeathStroke - DC Crisis
Reviewed 03.05.2008 - Average Rating: 4.00
Rurouni KJS
Veteran Deathstroke
boot speed
156 points
Team: Calculator
Keywords: Martial Artist, Soldier
Range: 8 x 1

DIAL & CARD:
http://www.wizkidsgames.com/heroclix/dc/figuregallery.asp?unitid=13834

STRENGTHS:
Deathstroke's starting with Stealth, 8 range and high stats with Outwit make him a great figure from the beginning, especially when you add his Wildcard abilities. But he only holds that Stealthed Outwit for one click as it gives way to Charge until his middial.
But also with that 2nd click, he gains Outwit-Plus:
"Master Tactician." Granting him Outwit and +1 to his attack for each enemy he's basing. The more the merrier for Mr. Slade here! This power also allows him to split his damage among all the foes he's basing, similar to a multi-target ranged attack. Combined with his Blades clicks, this could be an awesome power to use! Mid-dial, he really hits a sweet click: Flurry, BCF, Regeneration and Master Tactician. He has the potential to hit for 12 damage or heal back to his first click.

On the back end, he switches to ranged fighting with Leap/Climb to get away, Willpower + Psychic Blast to fire away, and Perplex to make it all easier for himself and his team. And with a DV whose low point is 16, he may be able to hang in there for a good while!

WEAKNESSES:
At over 150 points, he's not quite heavy-duty enough to front most teams, and lacks the keywords to easily form themes. He'll also be heavily dependent on good TAs to wildcard from.

FEATS?
ARMOR PIERCING could give his Master Tactician power some bite if you don't trust Blades rolls. RUNNING START is a cheap way to give him some mobility on that first sweet Stealthy click. He can use BRILLIANT TACTICIAN, but only near the end of his life; I wouldn't use it except in bizarro games. Among retired cards, AUTOMATIC REGENERATION will be worth every point.

IN SUM:
98 whole points better than his previous Vet, this Deathstroke looks like he really could (with the right die rolls) take on the Identity Crisis JLA team!

RATING: 4 of 5. Not a bad slot on his dial.

Copyrightę 1998-2007 pojo.com
This site is not sponsored, endorsed, or otherwise affiliated with any of the companies or products featured on this site. This is not an Official Site.