HeroClix Home Page
Message Board
Clix Chat
News Page

Clix Game
Click of the Day
Top 10 Lists
Tips & Strategies
Custom Scenarios
Custom Clix
Tourney Reports

Resources
Inventory Spreadsheet

Other
Staff


Magic
Yu-Gi-Oh!
DBZ
Pokemon
Yu Yu Hakusho
NeoPets
HeroClix
Harry Potter
Anime
Vs. System
Megaman
This Space
For Rent

HeroClix "Click of the Day"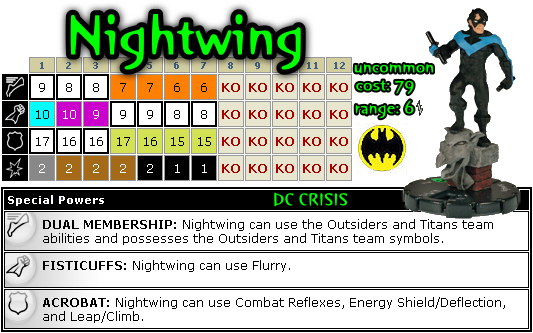 Nightwing - DC Crisis
Reviewed 03.04.2008 - Average Rating: 4.00
Rurouni KJS
Welcome to DARK WEEK of reviews of the new CRISIS set's high-profile remakes. We start with the protegé of the Dark Knight...

Veteran Nightwing
boot speed
79 points
Team: Batman Ally
Keywords: Detective, Gotham City, Martial Artist, Outsiders, Teen Titans
Range: 6 x 1

DIAL & CARD:
http://www.wizkidsgames.com/heroclix/dc/figuregallery.asp?unitid=13835

ANALYSIS & TIPS FOR USE:
Starting with solid stats and powers like 10 Attack Value, 17 Defense (plus powers) and the Stealth-providing Batman Ally team ability, Nightwing
would be a fine piece even without his Special
Powers. But the two he starts with boost his playability even further.

In the Speed slot there's "Dual Membership" which adds the Teen Titans and Outsiders abilities AND symbols, allowing Nightwing use some feats that he otherwise might not qualify for (more on that later). In the Defense slot, he has "Acrobat" which gives him Leap/Climb, Combat Reflexes AND Energy Shield/Deflection which boost his practical defense to
19 against even most Stealth-busting snipers.

He loses his starting Incapacitate and Leadership for Smoke Cloud and Perplex on clicks 2-3. But his dial really shifts with his fourth click, when he loses Dual Membership and Acrobat for rest-of-dial runs of Leap/Climb and Combat Reflexes respectively. He also gains his last Special, "Fisticuffs" which grants Flurry to get the most from his 2 or lower damage.
Between Perplex and three end-clicks of Outwit, he can make the hurt stick.

Like most Bat-allies, Nightwing is best kept in hindering. He can use Outsiders to nerf enemy modifiers like a lightweight version of M+M's Danger while Incapping enemies who get too close. Or, a simple push can make him a hidden Perplexer to give his team an easier time of things on top of the Outsiders TA. In order to get to him, foes will almost always have to base him, and his dial full of L/C (or use of it) enables him to get away whenever he likes.
If he is hit hard in close (which will be how it happens most of the time), Fisticuffs + Outwit makes him a threat to most anyone who dealt the damage. All this is a powerful package for around 80 points.


CARDS:
Despite his Special Powers, which usually don't meet prerequisites, Nightwing is very feat-friendly. First, because his Dual Membership actually says he POSSESSES the team symbols for Outsiders and Teen Titans, he can use INSPIRING COMMAND to give cheaper-costing Titans or Outsiders the quasi-Willpower that feat allows.
BRILLIANT TACTICIAN, too, is a brillant choice, with his three clicks of Perplex and plenty of keywords along with his three symbols to use on the card. His Bat-Stealth makes him a prime candidate for the excellent CONTINGENCY PLAN feat so long as you keep him safely away from Chargers or Stealth-busting snipers. Though his special powers don't qualify for it, POUNCE could make him an extra-mobile threat from his mid-dial on. His L/C mobility and dial of low damage means NANOBOTS is a perfect fit. And while the gladly-retired IN CONTACT WITH ORACLE is such a one-size-fits-all feat that I generally despise its recommendation, in Nightwing's case it's perfectly thematic -- he and Oracle are old friends who dated and nearly married.

Just don't put too many feat points on him; I'd pick just one of the above.

IN SUM:
V Nightwing was one of the surprise standouts way back in Hypertime. It's taken Wizkids this long to remake the former Boy Wonder. He's been worth the wait, as he's not only a capable 2nd attacker but a good team leader/supporter, too.

RATING: 4 of 5. Low damage is his only weakness.

Next we'll look at a character who's been both an ally of Nightwing and the bitterest of his enemies.

Copyright© 1998-2007 pojo.com
This site is not sponsored, endorsed, or otherwise affiliated with any of the companies or products featured on this site. This is not an Official Site.