HeroClix Home Page
Message Board
Clix Chat
News Page

Clix Game
Click of the Day
Top 10 Lists
Tips & Strategies
Custom Scenarios
Custom Clix
Tourney Reports

Resources
Inventory Spreadsheet

Other
Staff


Magic
Yu-Gi-Oh!
DBZ
Pokemon
Yu Yu Hakusho
NeoPets
HeroClix
Harry Potter
Anime
Vs. System
Megaman
This Space
For Rent

HeroClix "Click of the Day"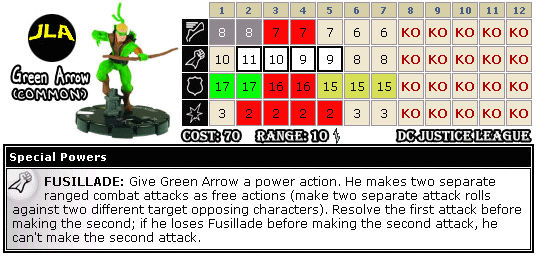 Green Arrow - Common
Justice League
#4 of 2007

Reviewed January 22, 2008
Average Rating: 5.00
Ratings are based on a 1 to 5 scale
1 being the worst. 3 ... average.
5 is the highest rating

Rurouni KJS

#4 is another shooter: Common GREEN ARROW from the JUSTICE LEAGUE set, reviewed 9/21/07 (

http://www.pojo.com/heroclix/COTD/2007/Sept/21.shtml)

Another perfect 5 piece, and I'm not taking this score back. I might've ranked him higher on the top 10 than this, but I didn't weigh in on this list. Another 70 point, 10-range sniper like Winter Soldier, he gets the edge thanks to opening mobility (ala Running Shot) a more pushable dial (he deals better damage overall) and the ability to survive and even thrive in close combat deep in his dial. He almost singlehandedly makes the Martial Artist keyword playable

-The Le
What's there not to love here? For a measly [70] points you get a deep [7] clicks of life, a full dial of defensive powers, JLA Team Ability, natural damage no less than [2], and oh-so-many options!

We start with two fine clicks of Running Shot with an excellent defense of [17] with Energy/shield Deflection. This keeps Green Arrow mobile and an effective [19] defense against ranged attackers – good luck hitting that! On the damage side he starts with a ice [3] damage, then slips into [2] damage with Ranged Combat Expert. This essentially means he is able to deal damage past invulnerable opponents. All with an excellent range of [10]. This attack is very high and gets Fusillade on the second click… more on that shortly.

The next three clicks is more of the same, but different. We keep the [2] damage with Ranged combat Expert, and the defense drops a bit, but we are treated with Super Senses (which I will take over Energy Shield / Deflection anyday) and then combat reflexes. The Running Shot is gone, but is replaced by Flurry. This is an interesting dichotomy for Green Arrow. On one had you have a range of [10] and Ranged Combat Expert, on the other hand you get Flurry. What's the deal? It's simple – diversity. Unlike most ranged archers, this baby can hold his own for ranged combat (where he excels), but can easily hold his own of an opponent becomes adjacent. This is a great addition!

Of course, Green Arrow is made for range. We see this with those 4 clicks of Ranged Combat Expert and Fusillade (which is like a ranged version of Flurry). Fusillade is a great addition to this character and helps with crowd control. So you are either dealing [4] damage to a single target with Ranged Combat Expert, or dealing [2] damage to two different opponents with Fusillade. Once again, this character is all about diversity, and he excels at it.

Lastly, Green Arrow drops back to earth on the last two clicks. His defense is a low [15], but he is quite effective in close attacks thanks to Combat Reflexes, and can still pack a big punch thanks to a natural [3] damage again! Even at his low, that [8] attack value is nothing to sneeze at.

Conclusion: An excellent ranged attacker that can deal damage to even the strongest of foes. Green Arrow is an excellent primary attacker and perfect secondary attacker for your team, thanks to a diverse set of powers, a range of [10], and a paltry cost of [70] points.

Final Rating: 5 out of 5

-The Le (pronounced Tay Lee)
On the web at http://www.TheLeGames.com

Copyrightę 1998-2007 pojo.com
This site is not sponsored, endorsed, or otherwise affiliated with any of the companies or products featured on this site. This is not an Official Site.