HeroClix Home Page
Message Board
Clix Chat
News Page

Clix Game
Click of the Day
Top 10 Lists
Tips & Strategies
Custom Scenarios
Custom Clix
Tourney Reports

Resources
Inventory Spreadsheet

Other
Staff


Magic
Yu-Gi-Oh!
DBZ
Pokemon
Yu Yu Hakusho
NeoPets
HeroClix
Harry Potter
Anime
Vs. System
Megaman
This Space
For Rent

HeroClix "Click of the Day"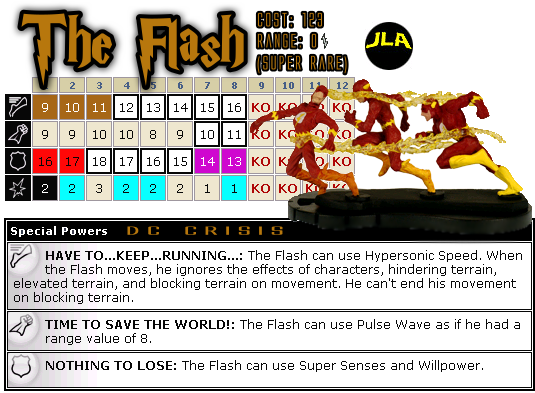 Reviewed 02.26.2008 - Average Rating: 3.00
Rurouni KJS
Unique The Flash (Crisis)
boot speed
123 points
Team: Justice League
Keywords: Central City, Justice League of America, Scientist
Range: 0 x 1

DIAL:
http://www.wizkidsgames.com/heroclix/dc/figures_dials.asp?dialid=11832&unitid=13826&universeid=6

ANALYSIS: Barry Allen fans, who've clamored for his official inclusion as a clix can't catch a break. Last fall, he made his debut with a space starfish on his mug. Now he's a double-based fig and is dying.

The good news is that this is a fun fig to field. He starts with Hypersonic Speed and middling stats but also Super Senses and Outwit. He loses the latter in favor of the first of many scattered clicks of Probability Control and his stats begin to climb. By click four, he's peaking with a Defense Special Power (Super Senses + Willpower) that covers his midlife and a Speed one for the rest of his life that essentially allows him to combine HSS and Phasing.

Late-dial, though, while his Speed and Attack values climb to KC Flash-like heights, his DV sinks to just
13 with Willpower. That's when you, if you lack a medic to operate on that very-healable defense, may want to go down attacking with his third Special that grants him 4-range Pulse Wave to deal that 1 extra click to someone.

FEATS?
ARMOR PIERCING to help his low damage. Use NANOBOTS beCAUSE of his low damage. DEEP SHADOWS could help his big base stay out of sniper range.

ETC.
He could be a real boon to the Scientist theme teams.

IN SUM:
Can't deal enough damage to really be a game-maker.
But his support powers and sheer harassment ability makes up for that shortcoming, at least until Armor Piercing is retired.

RATING: 3 of 5

Copyrightę 1998-2007 pojo.com
This site is not sponsored, endorsed, or otherwise affiliated with any of the companies or products featured on this site. This is not an Official Site.