HeroClix Home Page
Message Board
Clix Chat
News Page

Clix Game
Click of the Day
Top 10 Lists
Tips & Strategies
Custom Scenarios
Custom Clix
Tourney Reports

Resources
Inventory Spreadsheet

Other
Staff


Magic
Yu-Gi-Oh!
DBZ
Pokemon
Yu Yu Hakusho
NeoPets
HeroClix
Harry Potter
Anime
Vs. System
Megaman
This Space
For Rent

HeroClix "Click of the Day"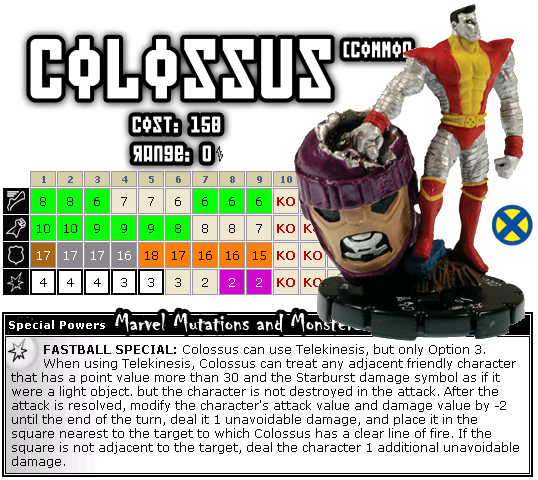 Reviewed 02.21.2008 Average Rating: 3.00/5.00
Rurouni KJS
Veteran Colossus (Mutations & Monsters)
boot speed
158 points
Team: X-Men
Keywords: Armor, Mutant, X-Men
Range: 0 x 1

DIAL:
http://www.wizkidsgames.com/heroclix/marvel/figures_dials.asp?dialid=11709&unitid=13622&universeid=4

ANALYSIS: At long last, a Colossus worth playing. Not only is he a passable Charging brick (with Impervious and 4 damage to start and damage reducers all dial), but his Fastball Special power gives him an effective 10 range:

"Colossus can use Telekinesis, but only Option 3. When using Telekinesis, Colossus can treat any adjacent friendly character that has a point value of more than 30 and the (Damage) damage symbol as if it were a light object, but the character is not destroyed in the attack. After the attack is resolved, modify the character's attack value and damage value by -2 until the end of the turn, deal it 1 unavoidable damage, and place it in the square nearest to the target to which Colossus has a clear line of fire. If the square is not adjacent to the target, deal the character 1 additional unavoidable damage."

Nifty, and much better than the old Mutant Mayhem feat of the same name. It gives him a supporting role as a sort of sniper and TKer in addition to his primary function of bashing clicks off the enemy up close.

CARDS?
FORTITUDE is always useful for bricks, but not as necessary for Pete here because he can hide behind the pals he plans to throw. COMMUNICATION BREAKDOWN could help his Fastballs' followup attacks.

ETC.
You've got to build a team around Colossus to get the best out of his Special. Figs with Blades/Claws/Fangs are good to get around the damage penalty (hello
Wolverine!) and the Outsiders TA can offset them completely with a little setup.

IN SUM:
Even without FBS, this Colossus is what fans have waited for. He's still a little costly, though, so he won't be seen outside of dedicated X-Men builds.

RATING: 3 of 5.


DrStrange86

BatmanX
~ Romanco ~
text

Copyrightę 1998-2007 pojo.com
This site is not sponsored, endorsed, or otherwise affiliated with any of the companies or products featured on this site. This is not an Official Site.