MISS MARTIAN
wing speed
76 points
Team: Titans
Keywords: Teen Titans
Range: 6 x 1
DIAL & CARD:
http://www.wizkidsgames.com/heroclix/dc/figuregallery.asp?unitid=14297
STRENGTHS:
Charging flying bricks are always welcome on your team. Ones that get Hypersonic Speed mid-dial are even better, especially sporting Super Senses to help avoid getting hit back. But Miss Martian's main feature is a dial full of Shape Change to avoid even bein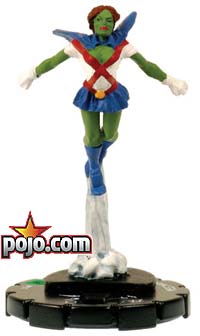 g attacked 1/3 of the time. Should she take a few clicks of hurt, though, she's got Regeneration to stretch her life out a bit. That also makes her a decent "battery" for the Teen Titans TA.
WEAKNESSES:
Unfortunately, she has plenty. Low damage and only 1 Super Strength click to supplement it. Tepid Defense Value and only 2 Toughness clicks to supplement. And only one non-generic keyword to possibly exploit.
CARDS TO CONSIDER:
Unending Shape Change calls for CAMOUFLAGE or INFILTRATE. If you don't play her with other Teen Titans, use LONER to pump up that weak DV to something respectable. In unrestricted games NANOBOTS is OK (but not great, as it's best used with HSS and she'll usually heal past those clicks) and AUTOMATIC REGENERATION is a little better, if pricey for her ability.
IN SUM:
This costs 75+ points? On paper, Miss Martian looks no damn good. But in practice, that mountain of Shape Change and mid-dial HSS could really change the game. 2.5 of 5.
-------------
FRANKENSTEIN
boot speed indomitable
98 points
Team: none
Keywords: Monster, Seven Soldiers
Range: 6 x 1
DIAL & CARD:
http://www.wizkidsgames.com/heroclix/dc/figuregallery.asp?unitid=14310
(NOTE: The Special Power noted on his card is an error; it should be played as Super Strength only.)
STRENGTHS:
Running Shot with 6 range and Super Strength offer a number of ways for Frank to hit, and his Indomitable ability allows him to keep the pressure on. His 9 AV rises to 10 for a few clicks with either a voluntary push or slight damage through his solid 17 DV + Invulnerability. Mid-dial, his Blades makes up for a dip to 2 damage. Late-dial, he's a great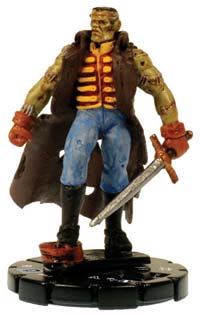 tie-up melee fighter with Plasticity and Close Combat Expert. Regeneration + Indomitable gives him the enviable ability to heal one turn and free-push to attack the next, or make the easy breakaway to run for a corner and try the Regen next round.
WEAKNESSES:
Frank's DV is never stellar. Running Shot and Super Strength is a poor combo in the post-Fantastic Four ruleset, as he can't use the former to run up to an enemy to use the object next turn anymore. A lukewarm 8 AV and 0 damage reduction on his CCE clicks is a problem. And watch out for opponents using the MONSTER HUNTER feat against him.
CARDS TO CONSIDER:
LONER is good for Frankenstein since he's not likely to share his keywords with many teammates to shore up his DV to much better numbers down the line. Since he starts as a range fighter, put that Super Strength to use with the one-shot DV boosting TOMBSTONE special object if you're nervous about him getting one-shotted too early. In unrestricted games, break out the NANOBOTS to take advantage of his low damage. Any piece with 2 or more clicks of Regen is a decent candidate for AUTOMATIC REGENERATION.
IN SUM:
Neither the min/max player's piece of choice nor automatic easy points for the enemy, Frankenstein is a fun and effective piece. That Indomitable really makes him work. 3 of 5.