HeroClix Home Page
Message Board
Clix Chat
News Page

Clix Game
Click of the Day
Top 10 Lists
Tips & Strategies
Custom Scenarios
Custom Clix
Tourney Reports

Resources
Inventory Spreadsheet

Other
Staff


Magic
Yu-Gi-Oh!
DBZ
Pokemon
Yu Yu Hakusho
NeoPets
HeroClix
Harry Potter
Anime
Vs. System
Megaman
This Space
For Rent

HeroClix "Click of the Day"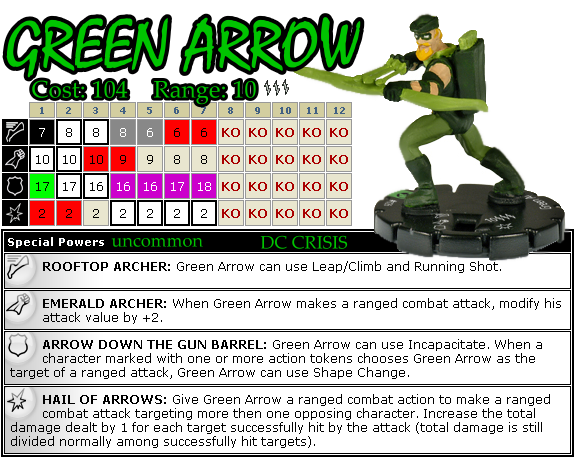 Green Arrow - DC Crisis
Reviewed 04.24.2008 - Average Rating: 3.00
Graphics above by Le
Rurouni KJS
Veteran Green Arrow
boot speed
104 points
Team: none
Keywords: Justice League of America, Justice League Elite, Martial Artist, Politician, Star City
Range: 10 x 3

DIAL & CARD:
http://www.wizkidsgames.com/heroclix/dc/figuregallery.asp?unitid=13896

STRENGTHS:
Starting with Stealth and high range, Green Arrow is a dangerous piece, especially with his "Emerald Archer" power that gives him 12 AV for ranged attacks. Added to his Ranged Combat Expert, that's a tough first strike. Even out of hindering terrain, he has Energy Shield/Deflection to boost his already-solid 17 defense. If he should lose that first click, he converts to a more mobile shooter with Leap/Climb and Running Shot thanks to "Rooftop Archer."

A third Special, "Down the Gun Barrel" not only gives him Incapacitate, but Shape Change against enemies who push to shoot at him. And click #3 gives him some close combat skills in Blades/Claws/Fangs. Mid-dial sees Willpower and his last Special for the rest of his dial; "Hail of Arrows" boosts his damage dealt +1 for each target he hits. On his late dial, his defense steadily rises to a peak of 18 with Willpower, making him a tough KO in the endgame. Flurry makes him a bit dangerous to close in with.

WEAKNESSES:
He's a little pricey for just 7 soft clicks and his base damage is low as well, wasting his three targets sometimes. That nice Hail of Arrows power is hobbled by his AV at that point.

CARDS?
POINT BLANK is a solid and cheap choice if you can keep him on that crucial Stealth click. PROTECTED can help him do THAT. NANOBOTS works his whole dial. In Unrestricted games, TRICK SHOT is very tempting.

IN SUM:
His high cost and dangerous ability make GA a priority target for enemy teams, so you have to be more careful with him than with his son, the Justice League set's Common Green Arrow.

RATING: 3 of 5.


Copyrightę 1998-2008 pojo.com
This site is not sponsored, endorsed, or otherwise affiliated with any of the companies or products featured on this site. This is not an Official Site.