REVIEWED BY CRAMCOMPANY
Edited by Jamie Lewis
Today we'll be reviewing Karnak from Super Nova.
Voted most likely to get shot out of a cannon.
He has a big green head and he's not afraid to use it!
Unique: 79 points, No Team
<![if !vml]>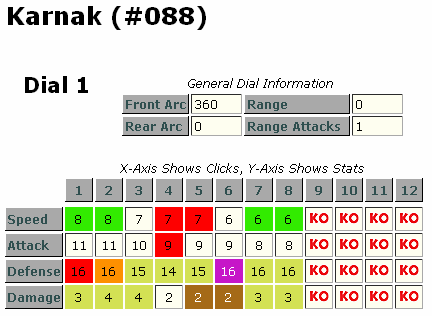 <![endif]>
MOVEMENT: Front loaded Charge, some Flurry in the middle and some ending Charge. Nothing terribly impressive, but enough medicore stuff to make him interesting.
ATTACK: 11 attack for the first two clicks. A very slow drop in attack which makes him all the more impressive.
DEFENSE: 16 with Super Senses is not that great. Toughness leads to Combat Reflexes which makes for a very high defense to hit against. Willpower is not so good or so bad, his random abilities make for one crazy dial.
DAMAGE: Brutal damage abilities. He has Exploit Weakness nearly every click, except for those that he has Perplex. He does have a naked click, but it's on that one that he has Flurry with Blades/Claws. I wish that 4 damage was on his first click, not his second click, but who am I to argue.
SCULPT: Watch out he's about to go Super Sana (or whatever that Dragonball Z word is)!
FEATS: Like any figure that has to be carried into battle, Protected is always the key. Nanobots will probably keep him alive longer. He can use In contact, but does not need it to be effectiive.
OVERALL:
<![if !vml]>
<![endif]> High attack with Exploit Weakness
<![if !vml]>
<![endif]> Consistently dangerous
<![if !vml]>
<![endif]> Easy to hit defense
<![if !vml]>
<![endif]> Is Mockingbird still better?
<![if !vml]>
<![endif]> 8 clicks long
<![if !vml]>
<![endif]> No team ability
<![if !vml]>
<![endif]> Well thought out click
<![if !vml]>
<![endif]> Could be a push click figure?
As probably the biggest supporter of Iron Fist, Karnak is a very nice new generation version. He is not as good as Iron Fist, because his attack and defense are lower. He does have that front loaded Charge and Exploit Weakness and his values clearly make him the best Unique in the set. He is a pure giant killer, he has the ability to cut through the Impervious and hit nearly every time. This figure is worth every point he costs and more. Learn his dial well, because you'll probably be playing against it a ton.
HE RECEIVES 5 OUT OF A POSSIBLE 5 THUMBS UP!
Good, Bad, I'm the Guy with the Clix
Cramcompany
Questions, comments, sexually confused? Email me at cramcompany@hotmail.com.
Please no hate mail
Warning global warming fun facts. As lame as it sounds planting a tree helps a lot.