REVIEWED BY CRAMCOMPANY
Today we'll be reviewing Hyperion from Super Nova
In Space nobody can tell you that if you wear Red and Orange you look dumb.
Only Hulk Hogan can pull it off and that's because he can body slam Andre the Giant.
Rookie: 177 points, Sinister Syndicate Team
<![if !vml]>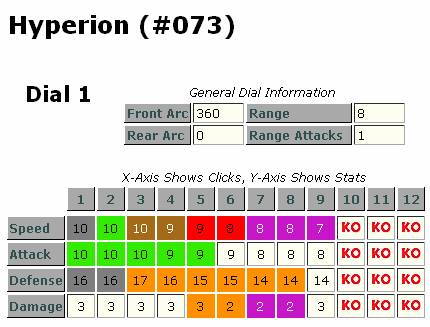 <![endif]>
Experienced: 191 points, Secret Defenders Team
<![if !vml]>
<![endif]>
Veteran: 224 points, Defenders Team
<![if !vml]>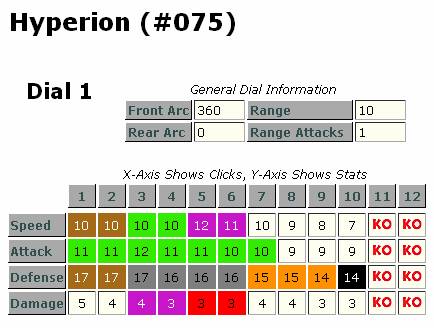 <![endif]>
LE: 187 points, No Team
<![if !vml]>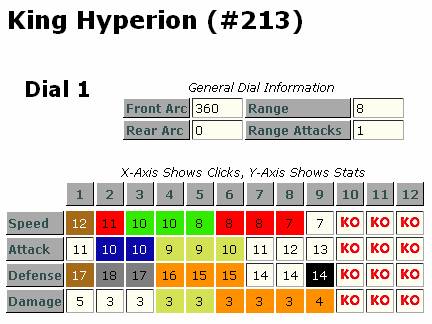 <![endif]>
Who is the Best: Front loaded Hyper Sonic Speed whips butt on the Experienced and Rookie version, so they're out. The LE is much more affordable and does have a very powerful first couple clicks. His second click has a nice 18 defense, but is clunky with only a 3 damage and Psychic Blast with Flurry. I love his attack, but 13 on his Regeneration is aggravating. The Veteran has a lot more damage reduction and once you cross the 180 point mark you might as well declare him your entire team J Winner: Veteran
MOVEMENT: Hyper Sonic Speed with Super Strength is the best combo in the game. Hyperion has the combo for his first 2 clicks, which is not Icons Superman good, but it's still darn good. Charge directly after HSS is definitely a decent back-up, because when you get hit off Hyperspeed you probably will not be next to anybody. He does have Forceblast and you pay 6 points for Whirlwind THEN it will still be useless.
ATTACK: 11 attack or higher for his first 5 clicks is fantastic! Super Strength is great for both his defense AKA desk and his damage AKA Pop Machine. One of the most impressive things about him is that he never dips below a 9 attack.
DEFENSE: 17 with Impervious is not too bad, but I really wish it was 18, then he'd be unquestionably playable. He is loaded with so much damage reduction that it will make his 10 clicks seem like 20.
DAMAGE: 5 damage is the magic number a figure over 200 points needs to have. When he finally dips a little bit he gains Close Combat Expert and Ranged Combat Expert. Remember that you can not Charge and make a CCE attack. He can never use Nanobots, but if he could he might be too good.
SCULPT: Yellow and Red…. Gah! I think in Superman IV he fought a guy wearing this suit.
The good side is you can make the joke "You wouldn't hit a guy with glasses would you?"
feats: He should be feated pretty heavy, because he is your entire team. He's going to have to have Fortitude on him. Protected would be the next most important. I would not waste Incontact on him though, save the rest of your points for a helpful figure or two. Sidekicking a Lockjaw would not be too dumb.
OVERALL:

Can hit and kill in one action

Can move and run around the entire board

Is hard to hit, but not too hard

Very deep dial

Amazing attack values

Is he too high points to make a real team with him?
Hyperion is definitely not has good as Icons Superman, but Icons Superman is the best big figure of all time. Hyperion is pretty darn close to as good, the extra points over Supes will leave more room for a TKer, Outwitter or some way to heal Hyperion. He is well thought out and very deep. His defense is his biggest weakness and Poison with Armor Piercing, but he still might be able to power through it. Make no mistake about it, Hyperion is not easy to play, keeping him out of your opponents cross hairs is a challenge. Yet the man with the glasses is definitely able to see his way to a competitive event near you.
HE RECEIVES 4.5 OUT OF A POSSIBLE 5 THUMBS UP!
Good, Bad, I'm the Guy with the Clix
Cramcompany
Questions, comments, sexually confused? Email me at cramcompany@hotmail.com.
Please no hate mail
Fun FACt: Adjust your thermostat. Turn it down 3 degrees in the winter and up 3 degrees in the summer. (Pounds of CO2 Savings Per Year = 1050)