REVIEWED BY CRAMCOMPANY
Edited by Jamie Lewis
Today we'll be reviewing Doom from Super Nova
We keep demanding an accurate Dr. Doom, one that can dominate the Fanastic Four. Will this be the one that satisfies your desires??? This is the Doom that has all the powers in the universe for a time… so he should be pretty good.
Oh, you can only get this one if you buy a whole brick!
Limited Edition: 241 points, Power Cosmic Team
<![if !vml]>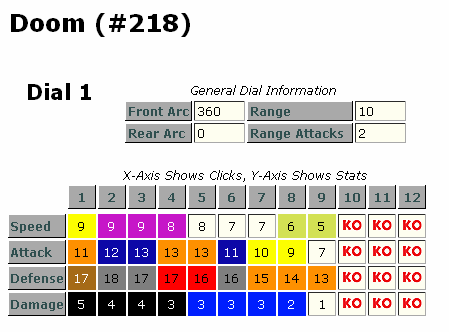 <![endif]>
MOVEMENT: Phasing… sigh, Forceblast… …. SIGH! Earthbound… … … WOW SIGH!!!
ATTACK: 11 attack at the beginning, with Energy Explosion… sigh. Hey now we're talking, 12 and 13 attacks with Pychic Blast! Energy Explosion… sigh. Psychic Blast! And a little Pulsewave at the end when you just can not use Nova Blast. High Attack values though!
DEFENSE: Impervious and damage reducers that can not be Outwitted! He can not push onto his better second click, because of Power Cosmic so you might as well forget about that 18 defense… your opponent will blow right past it. Supersenses could be amazing but, more often than not, will be disappointing. He has a chance of being healed at the end.
DAMAGE: 5 damage with Outwit is fantatic! Prob Control is not nearly as good as you think. When he attacks he'll not need it, because his attack is way too high. When he is getting attacked he will not need it, because 16 is not that hard too hit.
SCULPT: The classic Dr. that I grew up with. Although I do like him better with a cape.
FEATS: Hmmm. Protected is a must. He can not take damage from the token that is added too him, so Protected has no drawbacks. In contact on his defense might help keep him alive longer. Get him a medic instead of feating him up more.
OVERALL:
2 targets and 10 range is nice
No move and attack means that he loses to any team of TK, Hypersonic Speed and Armor Piercing.
Nice attack values, but terrible starting powers
His second click is his only really good one and it will be very hard to get too
He is better then Parallax
But Parallax is awful
Big figures need to be able to move, be very hard to hit and kill people in one hit. Dr. Doom can maybe do one of the three at best. His team ability is second to none, but I can not see how he is a playable piece in a competitive game, even in a 1000 point one. He just has such pointless abilities, like Prob, Forceblast and Energy Explosion.
Oh and one more thing… HOW MANY POINTS DO YOU HAVE TO BE TO WARRANT 11 CLICKS???ealHeal
HE RECEIVES 2 OUT OF A POSSIBLE 5 THUMBS UP!
Good, Bad, I'm the Guy with the Clix
Cramcompany
Questions, comments, sexually confused? Email me at cramcompany@hotmail.com.
Please no hate mail
Warning global warming fun facts: If you've noticed very bizarre weather, perhaps it is because of a global problem and not just simply a wacky coincidence.