REVIEWED BY CRAMCOMPANY
Today we'll be reviewing Red Tornado from Collateral Damage
When asked to describe X-men 3 (Spoiler alert!) I like to compare it to the 90's X-men animated show. Remember in the first two episodes they made up a character named Morph and then they killed him? X-men three is kinda like that except you replace the words "killed" with "brutally killed and decimated" and replace the word "Morph" with "nearly every major X-man."
OH and here is a Red Tornado Review
Rookie: 42 points, No Team
<![if !vml]>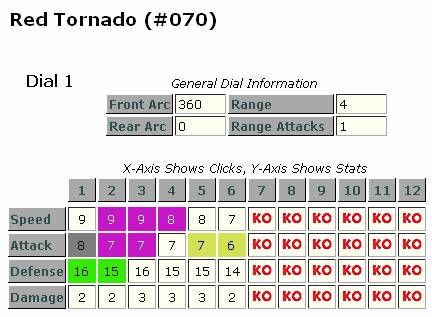 <![endif]>
Experienced: 53 points, JLA Team
<![if !vml]>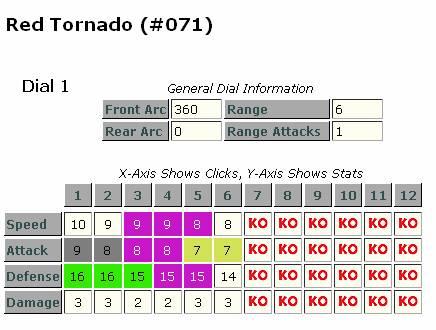 <![endif]>
Veteran: 67 points, No Team
<![if !vml]>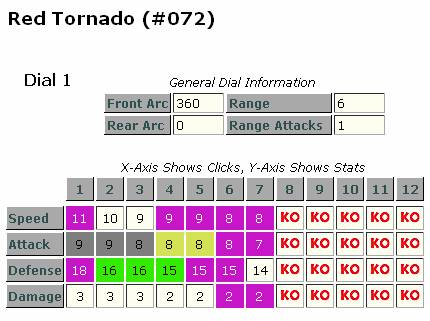 <![endif]>
Who is the Best: The rookie is the cheapest TK character in the new format, but he only has one click of TK and you ALWAYS push your TKer. The experienced is too close in points to the Veteran not to go with the Vet. Winner: Veteran
MOVEMENT: Forceblast is still pointless. But 11 movement and flying makes him a great taxi.
ATTACK: 9 attack is still way to low and this characters biggest flaw. TK is the reason to play him of course. Quake is definitely useful…once in a hundred games.
DEFENSE: 18 and Willpower is like a mini KC Green Lantern! Willpower is great with TK and amazing with a high defense. From a ranged attack his defense stays really high even after a couple clicks.
DAMAGE: 3 is okay. Not great, but about what you should expect for his abilities and point cost.
SCULPT: I love shiny and I love clear. I even love red clear.
OVERALL:

One of the best TKers

No move and shoot like Songbird

No Team

Low attack

Fantastic Defense

A lot of Purple on his dial.
I wanted to review Red Tornado, because I think he's slowly becoming very playable. Using him on a several figure team will work best and do not hesitate to use him as a Taxi. 18 defense is really hard to hit, he'd have to roll a 9 just to hit himself! The Willpower is probably his biggest selling point. I expect him to see a lot of competitive play, but not because he's great, just because there are very few other options with his powers set.
Overall see X-men 3 you will not be disappointed. Well…you may be greatly disappointed, but it's still worth seeing.
HE RECEIVES 4 OUT OF A POSSIBLE 5 THUMBS UP!
Good, Bad, I'm the Guy with the Clix
Cramcompany
Questions, comments, sexually confused? Email me at cramcompany@hotmail.com.
Please no hate mail