REVIEWED BY CRAMCOMPANY
Today we'll be reviewing Kraven the Spider from Sinister
This is the LE of Kraven and has recently garnered a lot of positive feedback about being not just the best LE in the set, but one of the best LE's of ALL time. Let's see if that's true.
LE: 39 points, No Team
<![if !vml]>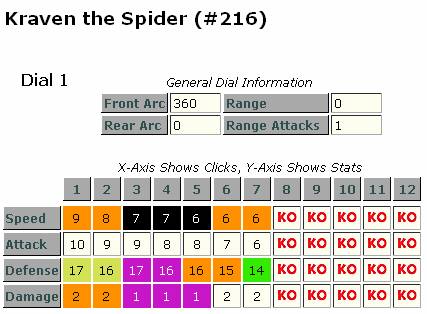 <![endif]>
MOVEMENT: Leap/climb to start and end. Stealth in the middle. He is definitely a Pounce Candidate.
ATTACK: 10 is a fabulous attack for the point cost and 9 for the next two clicks is pretty good too.
DEFENSE: Here is what people like him for. From up close he is a 19 to hit or more accurately 18 if you Pounce up there. The Willpower mid-dial is fantastic and really high for his third click. Even Toughness is nice for the points.
DAMAGE: Okay, it's 2, but that helps for Pounce. Battle Fury, pretty much means that Pounce or Telekinesis is the only option. Close Combat Expert is what really makes him good.
SCULPT: This is a really lame sculpt for Kraven the Hunter. It's like the Metrosexual version of Kraven. But he does look well groomed and dashing.
Feats: Pounce could really help, but there are better characters with Super Strength options. Protected will make him a MUCH better tie up piece and is probably worth the points. But if you only do one thing I would Incontact him, he needs to do enough damage to make him really effective. Or with Incontact you can up his defense to an un-hittable 20. Nanobots is fantastic on him as well and may be worth the points.
OVERALL:

7 clicks is pretty long for the points

Great Defense

Fantastic Attack

Battle Fury makes him not as useful

Feating him up too much will make him too expensive.

A unique and well designed character

Nanobots is amazing on a character like him
ealHeal
Is he worth all the hype? Probably not, a character like this must have a fair comparison to truly understand if he is playable. Rookie Iron Fist comes to mind and has a lot of similar stats and is also really good. If you compare Kraven to the Sinister Set he looks like a more powerful Galactus. Overall he is good, but he reminds me most of Ghost. Ghost is a similar tie up piece with mediocre damage, but Ghost was never really used. However, Kraven does have a lot better movement and attack stats. He is fantastic, but currently not fantastic enough to see REALLY competitive play, but will definitely by a tier 2 piece. When more things rotate out, I bet he'll be much better.
HE RECEIVES 4 OUT OF A POSSIBLE 5 THUMBS UP!
Stiltman rules!...if you ignore his stats.
Good, Bad, I'm the Guy with the Clix
Cramcompany
Questions, comments, sexually confused? Email me at cramcompany@hotmail.com.
Please no hate mail