REVIEWED BY CRAMCOMPANY
Today we'll be reviewing Wolverine from Sinister
The classic Wolverine I grew up with in the 80's. Reminding me once again how silly the 80's looked.
Unique: 94 points, X-Men Team
<![if !vml]>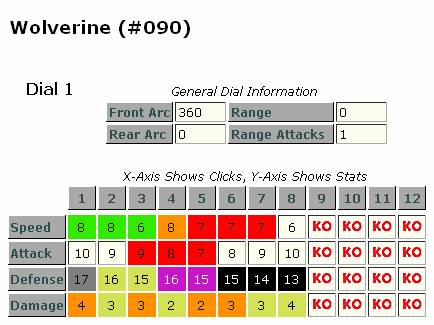 <![endif]>
MOVEMENT: Charge at the beginning of the dial is nice. Leap Climb is there to run and get healed or Nanobots or something, I guess. Flurry is always an amazing power…unless nobody is near you.
ATTACK: 10 is a nice attack, but a lot of the Wolverines have been getting an 11 or 12 so I guess I had high hopes. His attack drops off too easily and when it gets back up, you'll want to roll Regeneration, but if you do, you may land on the poor attack stats again.
DEFENSE: Well played… Invulnerability is a treat for a Wolverine figure, if he pushes he gets an 18 defense from Close Combat. Willpower at the same point you want to run and heal is nice. Regen is the standard and will be more powerful with the changes to healing.
DAMAGE: 4 damage, wow! Almost unheard of for this set! Exploit Weakness is great, but Battle Fury is Awful, so it's a trade off. I wish he had 4 and Exploit Weakness to start, that would have made him amazing.
SCULPT: Good work Donkey Kicking that piece of wall Wolvie! You show that rubble who is BOSS!
OVERALL:

4 damage is WAY better then Blades/Claws

Battle Fury makes him hard to carry around

He Regenerates onto his worst clicks, so what is the point?

Great Defense for the points

I hate how is best click is his last click!

8 clicks is pretty long
ealHeal
Wolverine is SOOOOOOOO close to being great, but is not quite there. For this set he's simply amazing, but when it comes down to it 4 damage is only okay for the points. Lockjaw can not carry him around and that hurts him greatly. Blackfire is very similar and just a lot easier to use, so is Captain Mako for that matter. Wolverine is better then average and I'm glad they made him, but until even MORE stuff is retired he's going to sit on the shelf and sharpen his claws.
HE RECEIVES 3 OUT OF A POSSIBLE 5 THUMBS UP!
Stiltman rules!...if you ignore his stats.
Good, Bad, I'm the Guy with the Clix
Cramcompany
Questions, comments, sexually confused? Email me at cramcompany@hotmail.com.
Please no hate mail