REVIEWED BY CRAMCOMPANY
Today we'll be reviewing Stiltman from Sinister
The long awaited, hugely anticipated, best reason to open a pack of Heroclix STILTMAN is finally here. Known throughout the Marvel Universe as the best most feared villain of all time, Stiltman uses his incredible Stilt powers to defeat any hero that is scared of heights. This figure is the tallest single based Heroclix ever made.
I warn you, I'm slanting this review to make him appear much better then he is.
Unique: 57 points, Sinister Syndicate Team
<![if !vml]>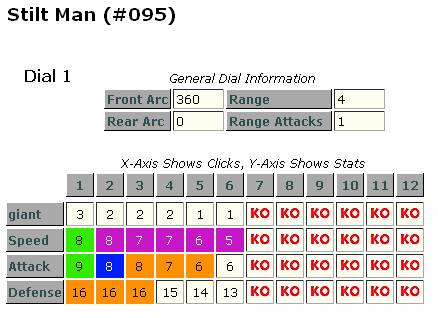 <![endif]>
The first thing I noticed was his 3 Giant movement and his very impressive 16 damage with Battle Fury. His nine defense is really low, but it's nice that he can kill Galactus in one hit.
The second thing I noticed is this was an error in the Heroclix website and his 3 movement is really damage and you can figure out the rest from there.
MOVEMENT: Charge on his opening click??? That is practically a miracle in this set. Forceblast…ehh…well with the new rules Force Blast is even better!!!
ATTACK: 9 is not that bad and he has Super Strength, so he can do up to 6 damage with a coke machine. His attack is an 8 after that, but he can use the Sinister Syndicate Ability to up his attack!!!
DEFENSE: 16 with Toughness will make his six clicks EVEN LONGER!!!
DAMAGE: 3 damage is pretty darn good! I mean The Leader is 113 points and only has 1 damage. So Stiltman is way cheaper and hits for 3 times more then The Leader AND he's taller then him,
SCULPT: The best Heroclix sculpt ever made.
FEATS: There is A LOT of Feats that belong on Stiltman to make him great. Incontact with Oracle can boost his Charge, Range or Damage. He's adjacent to 2 extra squares so Nanobots will help him keep healing up. Unstoppable will let him pass easily through hindering terrain and destroy a wall while he's at it. Armor Piercing will make his Energy Explosion that much more powerful. Fortitude will keep him from being Outwitted and make his Toughness really stick. Large Object will increase his attack while slightly lowering his damage. Lazarus Pit will make his MONSTER come back again and again…well again once. Movethrough lets him Charge whom ever he wants. Protected will keep him alive longer if they manage to hit his 16 defense. Repulsor Shield will make sure nobody can Psychic Blast his Toughness or Range Combat him to death. Rip It Up with Separation Field Generator will give him unlimited Nanobot fodder. Sidekick on him and KC Flash will give Stiltman a 20 defense. And you can have ALL of that for a meager 160 points worth of Feat Cards.
OVERALL:

The Tallest figure ever in Heroclix

For only 217 points you get Stiltman and ALL of those Feats! It's a steal!

He can hit for up to 9 clicks of damage, if his damage is Perplexed 3 times and you use the coke machine!

He's the tallest Heroclix figure ever made!

Sinister Syndicate is a very underrated team ability.

He has a 4 range!

He moves and attacks

He has ALL the BENEFITS of being a Giant Figure!

The Tallest Figure ever made and it's all in his legs!!!
Some figures can not be rated, they speak volumes to the very way we play Heroclix and perhaps the way we live our lives. Stiltman is THAT kind of click. Soon he'll be named the KC Flash killer. He shall neuter Superman and squash Spiderman like a bug. It will help if you play him with Galactus so Stiltman man has a decent second string attacker, then he'll truly be UNBEATABLE!!!!
HE RECEIVES 10 OUT OF A POSSIBLE 5 THUMBS UP!
Without Galactus HE RECEIVES 3 OUT OF A POSSIBLE 5 THUMBS UP
Good, Bad, I'm the Guy with the Clix
Cramcompany
Questions, comments, sexually confused? Email me at cramcompany@hotmail.com.
Please no hate mail