REVIEWED BY CRAMCOMPANY
Today we'll be reviewing Spider-man from Sinister
Sorry for last weeks mix-ups, here is the REAL Experienced Spider-man review.
The R/E/V set of the Black Suit Spider-man represents the last R/E/V Spider-man I can think of them making….yet I know they will make another one.
In Sinister there are really only about 10 figures that get over a 2 rating, so this week we'll dissect the best R/E/V set yet to be revealed in this set. So today…
Experienced: 77 points, Spider-man Team
<![if !vml]>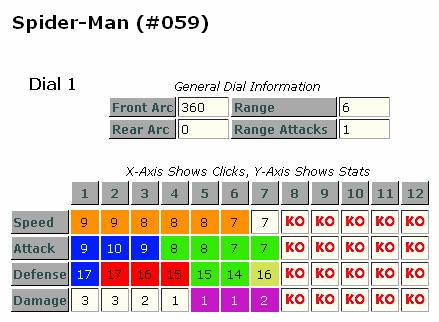 <![endif]>
MOVEMENT: HE'S A TRANSPORTER!!! Yes that is right, he's a Transporter Wildcard with a range. And he has Leap/Climb which is not quite as good as Lockjaws phasing, but still really good.
ATTACK: Ouch, I really wish he had that 10 attack on his first click. Super Strength would have made him devastating if it was on his first click, but it's overall not too terrible. Probably best that he does not, because then he would be REALLY broken. Incapacitate will probably never be used.
DEFENSE: Barrier was on odd and interesting choice for him. It's Barrier so it COULD be useful, but it probably not be. The best part about his defense is he is NEVER easy to hit. With Super Senses, Energy/Shield and Combat Reflexes.
DAMAGE: 3 damage is very good for Spider-man. Close Combat Expert is very nice, but will probably not be used since he is more of a move and attack piece. But the Close Combat Expert and 2 damage is a nice combo with Combat Reflexes.
SCULPT: My favorite Spider-man Costume.
FEATS: Incontact is a must because you need to up his attack to make him good. I always think Protected is good, but I do not think it is absolutely necessary. Nanobots is an absolute MUST!
OVERALL:

A Wildcard Transporter mean that he can Carry around 8 people with Green Lantern Team

He can have Suicide Squad for easier healing

He can have Batman team just to make him even harder to hit

Most importantly he can have Ultimate X-Men team so he can up his attack by one more

Leap/Climb gives him the power that Lockjaw has

6 range is fantastic for a transporter and will not be effected by the new Hyper Sonic Speed Rules

7 clicks is going to be very hard to kill

Nanobots will make him like KC Flash, impossible to kill

I do wish he has a higher attack

Perplex will be a must on this team
BOOM! This is truly the diamond in the rough. Spider-man is in the category of GAME CHANGER. He's VERY under priced, he's a wildcard, there is not a single Battlefield Condition that can truly hurt him (even Disbanded will not do too much), and he has a ridiculous range and speed attack. He does not have a bad click and has potential that I'm still not even seeing. If you pull him in draft USE HIM. This figure will ROCK the Heroclix world, it's about time that a marquee Marvel figure was really used. I love Lockjaw, but I still don't even know who he is. It's time you visit your Friendly Neighborhood Spider-man.
HE RECEIVES 5 OUT OF A POSSIBLE 5 THUMBS UP!
Check out my review of Rookie Spider-man (now posted)
Good, Bad, I'm the Guy with the Clix
Cramcompany
Questions, comments, sexually confused? Email me at cramcompany@hotmail.com.
Please no hate mail