REVIEWED BY CRAMCOMPANY
Today we'll be reviewing Spider-man from Sinister
The R/E/V set of the Black Suit Spider-man represents the last R/E/V Spider-man I can think of them making….yet I know they will make another one.
In Sinister there are really only about 10 figures that get over a 2 rating, so this week we'll dissect the best R/E/V set yet to be revealed in this set. So today…
Rookie: 51 points, Spider-man Team
<![if !vml]>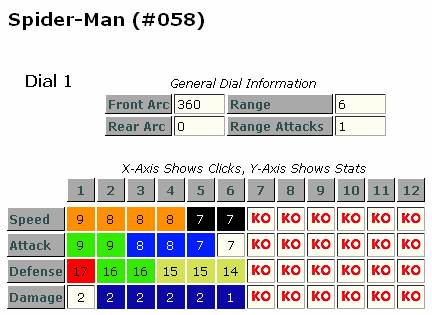 <![endif]>
MOVEMENT: Leap/Climb to start makes him a perfect Pounce candidate. Stealth at the end of the dial can really protect him from being shot in the back.
ATTACK: 9 for 2 clicks is not too bad. Super Strength at the beginning is part of the great Pounce Combo. Incapacitate does come in handy on a 2 damage figure.
DEFENSE: 17 with Super Sense not terrible. 16 with Energy/Shield basically mean that once he Pounces he'll be only attacked by the person HE attacked. Not too many people are going to try to hit an 18 defense from range when that character only hits for two. Energy/Shield and Combat Reflexes should be switched around.
DAMAGE: 2 damage to start makes him able to Pounce. Shape Change is now Super Senses AKA if you roll a 5 or a 6 that character can not attack you.
SCULPT: My favorite Spider-man Costume.
FEATS: You better be using POUNCE on this figure or you're an idiot. Protected can help a lot. Incontact is nice, but not really as important on this figure, because you can not up his damage, but upping his attack is a very nice idea. Spend the rest of your points trying to abuse his wildcard team.
OVERALL:

This Spider-man or the Veteran Ragman are the best possible Pounce Candidates.

With Pounce and an Object Spidey hits for 5 or possibly 6 damage. (The Coke Machine)

He's more expensive then the Starter Set Spider-man and he has a lower attack.

Energy/Shield is wasted on the second click.

Shape Change give him that Super Senses feel that can really save his butt.

He's a Wildcard and that's always a good thing.

6 Range is better then the average Spidey

He'd be so much better if he was 7 clicks and not just 6.

For 66 points you have a figure that can move 9 and hit somebody for 6 clicks.
Alright, if you can use him the Starter Set Spiderman is better, but he's going to be retired. This Spider-man is very great not just for this set, but also as the starter set replacement. He has a lot of really good points and only one major design flaw, which for this set is nearly a miracle. Without the Pounce feat he is completely worthless.
HE RECEIVES 4 OUT OF A POSSIBLE 5 THUMBS UP!
Okay Stilt-man is not a God, but I will still try and play with him, because he is freakin' Stiltman!
Good, Bad, I'm the Guy with the Clix
Cramcompany
Questions, comments, sexually confused? Email me at cramcompany@hotmail.com.
Please no hate mail