REVIEWED BY CRAMCOMPANY
Today we'll be reviewing Cyclops from X-Men Danger Room
This is the Cyclops I remember from the childhood. The Cyclops from my childhood had a really lame costume.
Unique: 40 points, X-Men Team
<![if !vml]>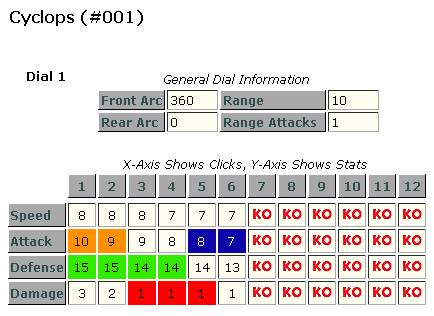 <![endif]>
MOVEMENT: I see a big blank spot. Cyclops without his traditional running shot?
ATTACK: I will go ahead and say 10 is darn good for this set. Energy Explosion is appropriate, but not that useful. Psychic Blast is a total waste of points and I can almost promise that you'll never use it. On the 5th click he has Ranged Combat Expert and I can not think of a really good reason to use a 1 damage as opposed to a 3. Unless you're shooting on Impervious and it that is the case, then your 8 attack will probably not hit anyway.
DEFENSE: 15 with Energy/Shield Deflection is pretty good for the points. A fast Outwit will make him and easy target though.
DAMAGE: Probably his Best Feature. 3 damage is a nice start, his second click of 2 is not that great, but the rest of his clicks at 3 is pretty nice.
SCULPT: They're all good by now. J
OVERALL:

No Move and Shoot means you'll have to spend the points to support him.

Nice Range, but if somebody makes it close to him, he's pointless.

Very consistent damage and a high enough attack to make that damage stick.

Easy to Heal at the end of his dial

Missing the Stealth, Running Shot, Leap/Climb or Phasing that keeps a ranged attacker safe or gives them the first hit.

Cyclops is fairly similar to Bullseye. I liked Bullseye, but I never played him competitively.
ealHeal
Cyclops has a lot going for him. He has a high attack, high defense from range and a consistent damage. He's clearly not his brother Havok, but what click is? A Lockjaw or a Jean Gray like Telekinesis Character is unfortunately a must to play him and because of that he's not as cheap as you think. In the future he may be more playable, but for now he's not amazing. Still he has a lot of good sides, a lot more then most characters.
SHE RECEIVES 3 OUT OF A POSSIBLE 5 THUMBS UP!
Good, Bad, I'm the Guy with the Clix
Cramcompany
Questions, comments, sexually confused? Email me at cramcompany@hotmail.com.
Please no hate mail