REVIEWED BY CRAMCOMPANY
Today we'll be reviewing Crystal a Armor Wars
Crystal was a member of the Inhumans, Fantastic Four and Awesomely Bad 80's Hair Club.
Unique: 62 points, Fantastic Four Team
<![if !vml]>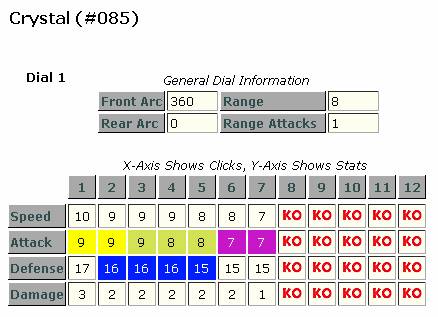 <![endif]>
MOVEMENT: No abilities…sweet L She does have a very high movement and is a flyer…so that is something.
ATTACK: Fairly steady attack and is front loaded with Pulse Wave. Quake will probably not be used since she is a ranged attacker. I'm not going to mention how pointless Smoke Cloud is on a non-Stealth character.
DEFENSE: 17 used to be a lot better defense, but now it is just average. Barrier would have been nicer up front, but it does make her useful later on. Respectably high defense will make her very hard to heal.
DAMAGE: 3 with Pulse Wave is nice, but after that first click she is a barrier character and nothing more.
SCULPT: She looks like she should be dancing in a White Snake video.
Feats: Nova Blast and Incontact. I would not even waste the points on a Protected, since she'll die if she gets a good Nova Blast off…probably.
OVERALL:

I've played her and did pretty well, when she has the 19 defense from Sue Storm to share she can be pretty good and get off quite a few Pulse Waves

No move and attack limits her ease of play.

Nova Blast for 3 is pretty devastating

Missing a Nova Blast and still taking 2 click and losing 10 points, because her attack is only a 9can be pretty devastating.

She was better before Collateral Damage came out.
Crystal is an example of lacking options to begin with, either you use Nova Blast with her or she's an expensive 3 damage attacker. If she had Barrier to begin with she would have been better. But if you're building a Fantastic Four Team, she's one of the best of the Bunch. I personally think all versions of The Thing and Mr. Fantastic are pretty terrible. Crystal is a good way to round out some theme teams, but for competitive play she is average are best.
Crystal RECEIVES 2 OUT OF A POSSIBLE 5 THUMBS UP!
Good, Bad, I'm the Guy with the Clix
Cramcompany
Questions, comments, sexually confused? Email me at cramcompany@hotmail.com.
Please no hate mail