REVIEWED BY CRAMCOMPANY
Today we'll be reviewing Atom Smasher from The Giants Special Edition
FIRST A WORD ABOUT GIANTS: Giant figures can see and be seen through characters. They occupy an extra row of squares. These figures can not be telekinesised or carried, AND they can also not carry other figures. Being a Giant figure makes you a Giant target and a Giant liability. I think you should minus 20 points if you're a giant.
To learn more about the special conditions of giant figures visit: http://www.wizkidsgames.com/heroclix/documents/DC_Icons_Rulebook.pdf
It is on page 16 of this rule book link.
He originally named himself Atom Smasher as a joke. Captain Atom still does not find it funny.
Experienced: 97 points, JSA Team
<![if !vml]>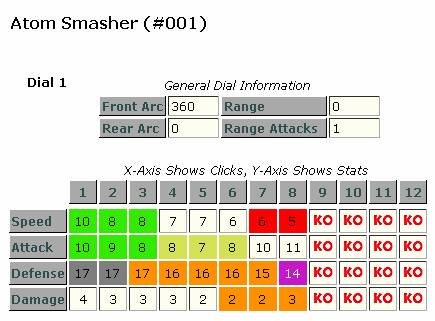 <![endif]>
MOVEMENT: Charge is a decent starting ability…and so original on a giant figure. J I love the Flurry at the end.
ATTACK: Super Strength and Quake, both adequate abilities. Super Strength can really make him hit for a lot during that first attack.
DEFENSE: Three clicks of 17 defense, not too bad. The JSA team and ability to share 17 is pretty nice. A host of damage reducers at the end and Willpower to either really kill with flurry or run to a medic is always nice.
DAMAGE: You will definitely not want to push him, because 3 is no 4 and 9 attack is no 10. Battle Fury will not be that big of deal since you could not make a ranged attack anyway. J
SCULPT: His belt is very odd, it makes him look like you could detach him from his waste and possibly store candy in him…which would be great for any of the hefty gamers out there. I'm looking at you Michigan and Texas.
OVERALL:

0 range, because why would anyone want to make a range attack?

Decent starting stats, high attack and defense.

Really good last click stats…hopefully you randomly hit that last click and are standing by a character that has no real damage reduction.

This feels like the most generic of all the Giants.

Stats are all in the right place

1 click of impervious would have been great, but I understand why it is not there.

8 clicks are pretty long for less than 100 points.

Fortitude would help a lot, because without Outwit, he's hard to really kill.

Giants should be able to carry figures, because him carrying Experienced OMAC (18 defense Wildcard) would be great.
Atom Smasher has a lot of potential and with the upcoming rules changes to Giants he could be great. His worst part is the fact that he is a Giant figure and does not have range, so he is a great big easy target. His defense and defense sharing could keep him in the game and he seems very well designed. For a brick and a Giant with no range this is the best I can give him for a rating. But if the Giants rules change for the better, Captain Atom will have to watch his back.
SHE RECEIVES 3.5 OUT OF A POSSIBLE 5 THUMBS UP!
Good, Bad, I'm the Guy with the Clix
Cramcompany
Questions, comments, sexually confused? Email me at cramcompany@hotmail.com.
Please no hate mail