REVIEWED BY CRAMCOMPANY
Today we'll be reviewing Basil Karlo aka Clayface from Collateral Damage
Welcome to LE's week here at Pojo.
Basically the Blob from those 1950's moves, but with legs. He can also change shape and easily get defeated by a man in a Bat suit.
LE: 87 points, Batman Enemy Team
<![if !vml]>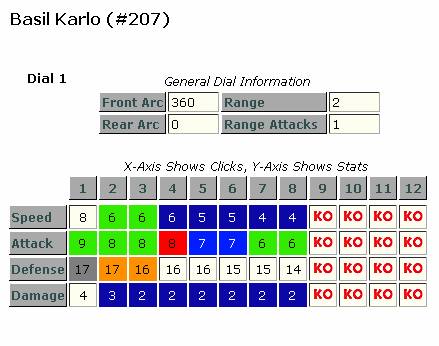 <![endif]>
MOVEMENT: Oh no way! It's almost upsetting. He has a move and attack ability on his second click, but not his first. So he has to run up and attack, then get hit and MAYBE after he kills somebody another figure will be three squares away from him and then he can charge them. Wow, how deeply unlikely and pointless. Plasticity is great and would be much better, ON THE FIRST CLICK! I take it back, it's not ALMOST upsetting, it's just UPSETTING!
ATTACK: Part of a Clayface figure is his pathetic attack, 9 with super strength and then a "Thug attack" of 8 and finishes off in true POG form with a couple of sevens and sixes.
DEFENSE: I7 with invulnerability is nice, his defense is his greatest asset. Be warned that he is hard to heal.
DAMAGE: 4 is a nice opening damage, but it drops far too fast.
SCULPT: How can you hate this amazing sculpt?
OVERALL:

He's so horrible it makes me mad.

With Batman enemy, it is easy to counter his poor attack by playing a good figure next to him with, either having that team or a wild card.

He's incredibly hard to play well.

His defense is lower then the other Clayface versions.

He'd need to roll a 7 on his second click, he we was attacking the Alfred POG!

Maybe we should have called this bad LE week.
He's pretty much unplayable. I see no advantage in playing him over say…any other brick character ever made. He is not as bad as Dan Cassidy, but he's close. I'll give him half a thumb just because he can hit for 4 damage.
I'm just angry about how bad this version is…I better stop.
HE RECEIVES 0.5 OUT OF A POSSIBLE 5 THUMBS UP!
For those of you that want to play a Clayface I suggest this Version.
Veteran: 89 points, Batman Enemy Team
<![if !vml]>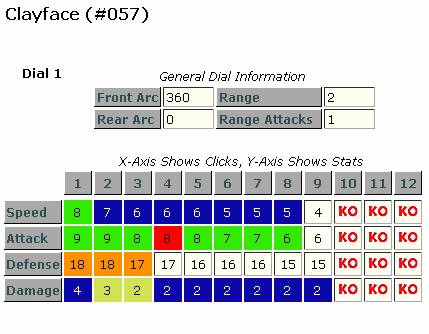 <![endif]>
He has higher defense, opening click of charge, exploit weakness on his second and third click, plus a slightly less pathetic attack.
"Good, Bad, I'm the Guy with the Clix"
Cramcompany
Questions, comments, sexually confused? Email me at cramcompany@hotmail.com.
Please no hate mail