REVIEWED BY CRAMCOMPANY
Today we'll be reviewing Captain Britian LE from Armor Wars
This is Flashback to Armor Wars Week. In part, because with all the retired characters and new rules different characters are better. But in a bigger way they have not released a new figure's stats in over a month and a half. I'm quitting when we start re-review Hypertime.
Captain Britain is one of the better ideas for an LE. Making a character just completely different is always a neat idea for a prize.
LE: 69 points (Te He Te He… 69), No Team
<![if !vml]>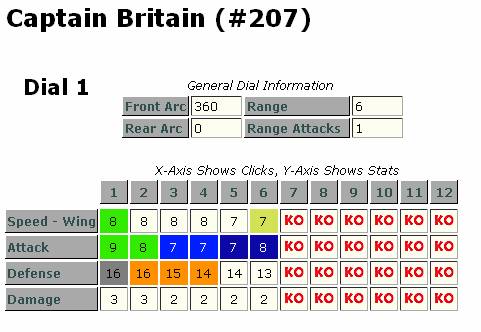 <![endif]>
MOVEMENT: Charge to Start, but it is only a 8 Charge which is not great.
ATTACK: 9 attack with Super Strength make her a little more dangerous. Incapacitate and her low attack is just a bad joke. Psychic Blast at the end is okay, but the Earthbound on the last click may stop you from using it.
DEFENSE: 16 invulnerability is decent, but really easy to hit. Toughness will make her short click, less short.
DAMAGE: 3 damage is just not that great for a brick style character.
SCULPT: That is definitely a girl in a big purple cloak.
Feats: Don't bother, but if you must Nanobots, Rip it Up, Protected and Incontact.
OVERALL:

She flies and has a range

She is a brick that will have a hard time hitting

She is a brick that is easy to hit

She is a brick with a short dial

She really doesn't even qualify as a brick
ealHeal
There is truly no big upside too Captain Britain. A brick needs a high attack and high damage. If the brick can not do that why use her…him…Captain Britain?
HE RECEIVES 1 OUT OF A POSSIBLE 5 THUMBS UP!
Good, Bad, I'm the Guy with the Clix
Cramcompany
Questions, comments, sexually confused? Email me at cramcompany@hotmail.com.
Please no hate mail