REVIEWED BY CRAMCOMPANY
Today we'll be reviewing Sam Wilson from Sinister
Personally I definitely feel that the Falcon warranted making 5 versions of him in this set. Who is more loved then Falcon? Falcon fans will scurry to get his Rookie, Experienced and Veteran piece. Then work hard to win the Tournament to grab that Falcon LE and THEN get the mail away Falcon as well. Finally those rabid Falcon fans will be satisfied.
Exclusive: 53 points, Shield Team
<![if !vml]>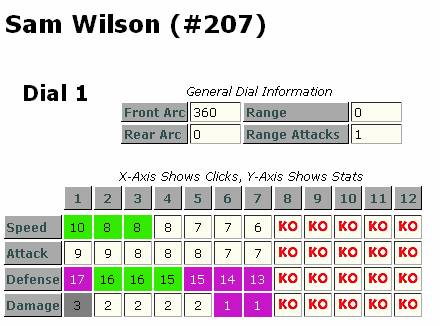 <![endif]>
MOVEMENT: 10 with Charge is not too bad for a flyer I guess. Charge is always okay, just not great.
ATTACK: 9 attack is not fabulous. No abilities is even less fabulous.
DEFENSE: 17 with Willpower is respectable. Energy/Shield Deflection is not really useful for a Close Combat figure. I always like Willpower at the end.
DAMAGE: 3 Damage with Leadership. Not too bad. Not scary but Leadership should be on lower point figures. Close Combat keeps him dangerous at the end. The 2 damage in the middle is really terrible.
SCULPT: I'm not even sure if this is the clear wings one or not.
OVERALL:

Leadership is alright

He is a must play for a Shield Theme Team

No range is bad

9 attack with 17 defense is… not surprising for the set.

What is special about him?
ealHeal
If you have no range you have to have amazing stats and Sam Wilson does not. He's brilliant if he's in a theme team with Shield. But for competitive play he is simply pointless. The Willpower and semi-high defense could keep him dangerous, but he if gets hit once he'll be useless.
HE RECEIVES 2.5 OUT OF A POSSIBLE 5 THUMBS UP!
Good, Bad, I'm the Guy with the Clix
Cramcompany
Questions, comments, sexually confused? Email me at cramcompany@hotmail.com.
Please no hate mail