REVIEWED BY CRAMCOMPANY
Today we'll be reviewing Ulitmate Clayface from Collateral Damage
This is the Inquest and Wizard Magazine exclusive figure. AKA, I good reason to spend a lot of money on another click.
Unique: 99 points, Batman Enemy Team
<![if !vml]>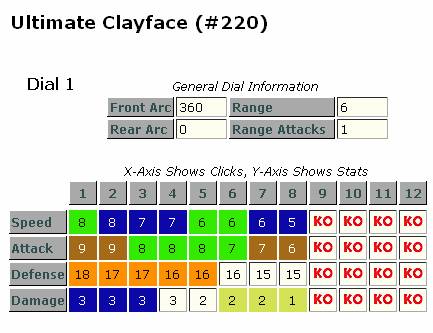 <![endif]>
MOVEMENT: It is definitely best that he starts with charge, but charging for 4 seems a little pointless. But it is a move and attack ability and thus it is good. Plus getting close with poison is a good thing. Plasticity is a good thing with poison as well.
ATTACK: As much as I like poison, I think I like charge and super strength more on my brick characters. The super strength later in the dial is not as good, because you will rarely be near a weapon and be able to charge and grab the object….especially with a 3 charge. 9 attack is a little low for 99 points.
DEFENSE: 18 defenses is by far his best feature. That is a very high for a standard brick. Clayface will always be hard to heal though. I would have liked to see Invulnerability or impervious on that opening click though.
DAMAGE: 3 is pretty bad for a brick, in fact it is very bad. Without super strength there is no way to bump up his attack, without bumping up his point cost (feat cards). Exploit weakness will keep him useful.
SCULPT: I lied about his defense, because his sculpt is his best feature. This is a great sculpt. I really like the objects and background they're putting in the sculpts.
OVERALL:

Low Damage and Attack

His defense may force your opponent to miss once of twice, thus giving you a big edge.

If you put him next to a better Batman Enemy Character, it will make his attack more useful.

Teaming him with a Veteran Iron Fist would also give him a great attack and really make for a great one-two punch.

Poison and Armor Piercing is a great combo and will help push through his attack damage.

He is so darn generic; I do not know what to say.
Ask yourself this; "What makes this brick special?" The answer is "not much." He has poison and a range, which I do like, but that is it. He's the worst kind of brick for that matter, he's a low damage brick that may miss. You're power house needs to score big and often, Clayface does not. It is always so hard to get your brick next to a figure, but when it happens you should kill the figure, not annoy him with a high defense and slight damage.
SHE RECEIVES 1.5 OUT OF A POSSIBLE 5 THUMBS UP!
Good, Bad, I'm the Guy with the Clix
Cramcompany
Questions, comments, sexually confused? Email me at cramcompany@hotmail.com.
Please no hate mail