REVIEWED BY CRAMCOMPANY
Today we'll be reviewing Green Lantern from Collateral Damage
The very long awaited Kyle Rayner. Why did people want him so badly, when people hated him replacing Hal? Because nearly every other figure as been made. Except for Lobo…. Grrr……Lobooooooooooooooooooooooo!!!!!!
Lobo would probably end up being a stand brick either way though.
Rookie: 80 points, Teen Titians Team
<![if !vml]>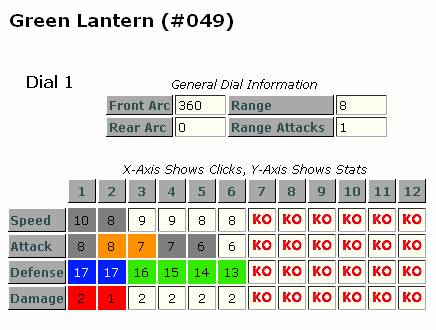 <![endif]>
Experienced: 121 points, JLA Team
<![if !vml]>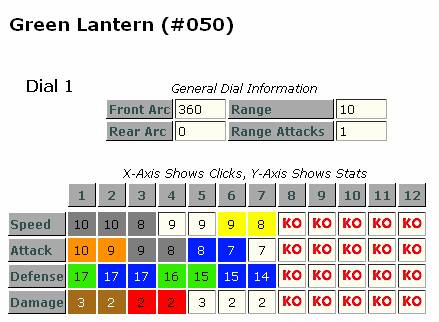 <![endif]>
Veteran: 167 points, Green Lantern Team
<![if !vml]>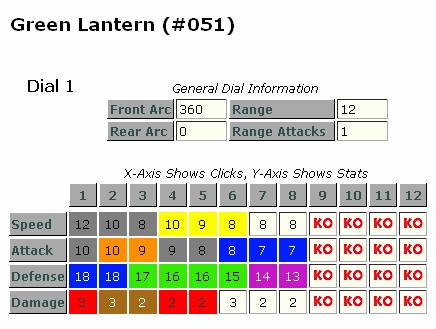 <![endif]>
Who is the Best: The Rookie is pathetic, 80 points and an 8 attack. The experienced is okay, but the powers are all out of order. Energy Explosion one the opening click is not that impressive too me. With the higher range and running shot and more traditional Green Lantern Dial and Team, the nod goes to the Veteran
MOVEMENT: Running shot is always good and 12 is a very high movement for running shot. Phasing is pretty decent on a Green Lantern Team member.
ATTACK: Telekinesis is the good old standard, but I wish he had it for a bit longer through his dial. Energy Explosion is pretty nice. Incapacitate is way standard. I rarely use either of the two abilities.
DEFENSE: I love the consistently high defense, that is great. I will say this now, because he does not have Willpower on his opening click he is inferior. Barrier is great ability, but at 167 points you'll never use it. You want Lantern to attack or possibly throw a figure at somebody.
DAMAGE: 3 is pretty standard, you'll want to put trick shot on him, but it's a major judgment call, does he have Ranged Combat Expert long enough to warrant it. If he get's hit, he'll probably end up back on it. However putting trick shot on him will be a commitment not to push him.
SCULPT: This new different sculpts for Veteran are Wizkid's way of saying Veterans are the new Unique. I play in three Heroclix events a week and have NEVER seen a Veteran War Machine. Nobody owns ever pulled one. But I do own every Armor Wars Unique.
OVERALL:

12 range is dominate and it means he will be able to Ranged Combat Expert more, instead of Running Shot. (Running Shot and Ranged Combat Expert do not work together.)

No opening click Willpower will hurt him a lot more then you think.

8 Single Point POG's making give Green Lantern a circle of protection.

Easy to heal at the end of the dial.

Green Lantern team is Amazing. Dropping a wall of POG's on somebody can ruin their strategy.

Adding rookie Livewire and 8 more points of POG's for only thirty points is a great secondary attacker for this team.

You'll never use that barrier unless you're playing a 500 point game.

Definitely a candidate for Force Field

Hyper Sonic Speed Character can not STAND on characters to attack somebody else. Which means Flash can not hit Kyle if he has an army of POG's around him.
He is not as good as the other Green Lanterns, but that does not mean he is bad. He has a high defense and a moderate attack, plus the Green Lantern Team Ability. He stays decently useful throughout his dial, but I can definitely think of better uses for that many points. Kyle is a perfect secondary attacker, but for the point cost, who is your first attacker? Just like in the comics, he's no Hal Jordan…frankly he's not even a Alan Scott.
SHE RECEIVES 3 OUT OF A POSSIBLE 5 THUMBS UP!
Good, Bad, I'm the Guy with the Clix
Cramcompany
Questions, comments, sexually confused? Email me at cramcompany@hotmail.com.
Please no hate mail