REVIEWED BY CRAMCOMPANY
Today we'll be reviewing Adam Strange from Collateral Damage
Adam Strange is one of those characters that used to be stupid, until DC put a really good writer behind him. Now Adam Strange is the man! He is a normal human that became champion of the Planet of Rann one of the most technologically advanced places in the universe.
Unique: 88 points, No Team
<![if !vml]>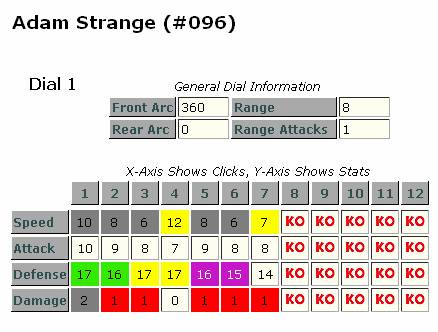 <![endif]>
MOVEMENT: WOW! This is pretty great. Non-Stop running shot or phasing is an amazing feature for any character.
ATTACK: Very respectable especially for this set. 10 attack with a middle attack spike for 88 points is quite good..
DEFENSE: Also just amazing. 17 with energy shield deflection. AKA a 19 defense on his opening click. Then followed by high defense throughout, he definitely gets low enough to heal in the last click. Defend and Willpower could definitely come in handy.
DAMAGE: Darn! A draw back. A major, major drawback. Running shot can not be used with ranged combat expert and a one base damage is pathetic. Not to mention that he is sporting a zero mid-dial. He will need a lot of help here.
SCULPT: Just when the sculpts could not get any better, Collateral Damage comes out and truly makes that Hypertime Superman look bad,
OVERALL:

Way low damage

A+ on Defense, Attack and Speed

A decent range with the 5 move running shot gives him over half the board of these new small maps.

Will the cost putting too many feats on him, drive up his price too much?

No damage reduction, so if your opponent hits you'll take it the hard way.
Finally a Unique that truly is Unique. Adam is a very hard figure to judge, he has most of what I look for in a figure; move and shoot, 10 attack and really high defense. The real deciding factor is how much will you put on him to make him playable.
Potential Feats:
Protected; 8 points. Incase your opponent rolls high enough.

Incontact; 10 points. To give him a better damage

Life Model Decoy; 12 points. This will probably give him at least an extra 2 clicks.

Nanobots 10 points. This will work well with his ability to move and shoot or phase.
That is 30 points extra and drives up his point cost to 118 clicks. What are you getting for that? A move and shoot character that is nearly impossible to hit, but will only do 3 damage (with the Incontact). With a Con Artist or so you'll probably be able to bump it up to four damage. Adam Strange is pretty great, but is he better then any vanilla hyper sonic speed character? Unfortunately, experienced Quicksilver, Experienced Aurora and any Flash are all heads and tails above Mr. Strange, but Adam is still better then most.
SHE RECEIVES 3.5 OUT OF A POSSIBLE 5 THUMBS UP!
Good, Bad, I'm the Guy with the Clix
Cramcompany
Questions, comments, sexually confused? Email me at cramcompany@hotmail.com.
Please no hate mail