REVIEWED BY CRAMCOMPANY
Today we'll be reviewing Eclipso from Collateral Damage
This is the version of Eclipso that I'm attracted to. The other one just did not do it for me.
By the way, if you're not reading Infinite Crisis you should be. Most of these characters are from that story line and it is definitely the best thing DC has done in the past two decades.
LE: 138 points, Mystic Team
<![if !vml]>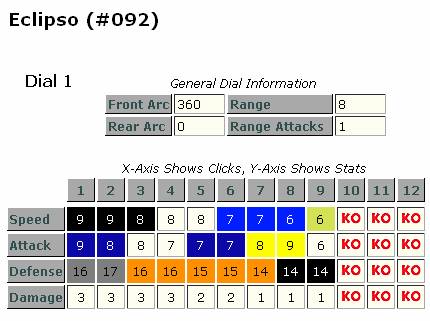 <![endif]>
MOVEMENT: Stealth is very good, but it is not as good as a move and shoot ability.
ATTACK: WOAH! WOAH! Danger! Exceptionally low attack. Sure, Psychic Blast is about the best attack ability for a flying character to have, but seriously an 8 attack on the second click?
DEFENSE: I like the regeneration, but this character has a really low defense. The 9 clicks will keep her alive, but is her mid-dial worth anything? Regeneration can only get her back to her 5th click. The fifth click is only a 7 attack with no speed ability.
DAMAGE: Wow, every stat on her is wow. She needs at least a 4 damage to be playable.
SCULPT: From the picture it does not appear to be the best sculpt. She looks more like a nightmare then the girl of my dreams.
OVERALL:

Every stat is low.

The spikes in her stats comes at odd and useless times

Stealth and psychic blast are a very nice combo. Anybody who has ever played Jinx with a Batman Team Ally will understand

Speaking of Jinx, for 54 points she is better in every way and has probability control.

Her defensive abilities make her have a very long dial. Mystics team makes that long dial even more painful.

Stealth makes her unable to be outwitted (as long as you keep her in stealth)
For a character capable of controlling The Spectre she is stupidly weak. I would play her if she was 60 or maybe 70 points, but currently she is 60 points higher costed then that. Do not get any ideas that feats are going to be able to save her, they will not. She is over priced and poorly designed, but with the stealth and long dial she will definitely be playable in draft.
But I don't review for draft so…
SHE RECEIVES 1 OUT OF A POSSIBLE 5 THUMBS UP!
Good, Bad, I'm the Guy with the Clix
Cramcompany
Questions, comments, sexually confused? Email me at cramcompany@hotmail.com.
Please no hate mail