REVIEWED BY CRAMCOMPANY
Today we'll be reviewing Dan Cassidy aka The Blue Devil from Collateral Damage
Welcome to LE's week here at Pojo.
Stuntman Dan Cassidy was struck by a blast of supernatural energy from the demon Nebiros. Later Dan was turned into a real demon by Neron. Now, when ever innocent blood is spilled he because the Spirit of Vengeance, he is the Ghost Rid…er…the Blue Devil!
LE: 71 points, JLA Team
<![if !vml]>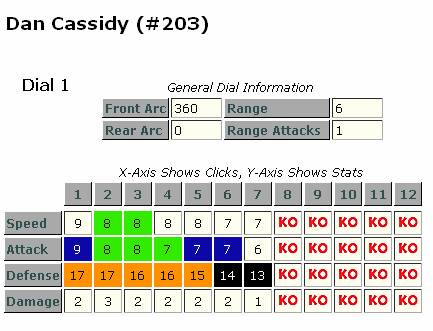 <![endif]>
MOVEMENT: Charge on his second click…so does that mean he's a push click character? Move and shoot abilities on the second click are just terrible.
ATTACK: 9 attack with one of the favorite abilities Psychic blast. Then he bounces to super strength and then back to Psychic Blast. 9 attack dropping to 8 on his second click is bad. It's bad for 30 points, it terrible for 72.
DEFENSE: I guess this is his best feature; 17 with toughness for the first two clicks. Two click of regeneration.
DAMAGE: 2 damage and Psychic Blast….that's not going to do a lot. 3 damage on his second click… that's terrible! Is he a push click character? No damage abilities…neat.
SCULPT: By far his best feature. The flames are really well done, but my trident is always bent in every Blue Devil Figure I get. My tridents bent…hehe.
OVERALL:

Wow…he is awful.

I hate higher damage and move and attack abilities on the second click.

First he is ranged and then he is close combat…this is a hard strategy to set up, because his charge is not the same as his range.

Regeneration is nice, but even when you roll a six he's just a charging 8 attacker.

Such low attack for 72 points.

He's like Jinx if jinx did not have probability control or wildcard team ability.

He'd also be like Jinx if she really sucked.

JLA is one of the worst team abilities.

Are 17 defenses the new 16?
Wow…how is he a "prize"? Regardless, none of the figures Blue Devil Figures are that great. His attack is so low on his second click, he'll be luck to hit anybody and even if he DOES hit he probably will not hit for much. There are 100 characters that do what he does a lot better and cheaper. I would not hire this stuntman if I was you.
HE RECEIVES 0 OUT OF A POSSIBLE 5 THUMBS UP!
For those of you that want to play a Blue Devil figure I suggest one of these two options.
Option #1: Play the 76 point, no teamed, Experienced version.
<![if !vml]>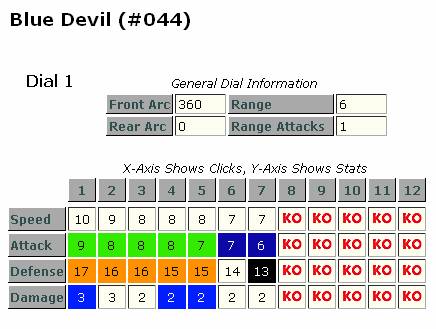 <![endif]>
Here you get a high defense and probability control, so at least you may be able to save your own tail, while you wait for him to be able to hit somebody. His attack is still dreadful and he is unplayable competitively, but at least he earns a 1.5 Thumbs Up, instead of a zero.
Option # 2: Mount your Blue Devil Figure on Ghost Rider's base.
"Good, Bad, I'm the Guy with the Clix"
Cramcompany
Questions, comments, sexually confused? Email me at cramcompany@hotmail.com.
Please no hate mail