REVIEWED BY CRAMCOMPANY
Today we'll be reviewing OMAC from Collateral Damage
Infinite Crisis starts and ends with the OMACS, literally ordinary citizens with Braniac 13 Nano-technology implanted in them without their knowledge. These robots evolve with every punch and are loyal to one brother eye satellite. The OMAC have torn apart Wonder Women's home and nearly killed Batman. So who is responsible for this kind of horror? The blame falls to Batman and his distrust of the Justice League. Well, Max Lord had something to do with it too.
Rookie: 59 points, Calculators Team
<![if !vml]>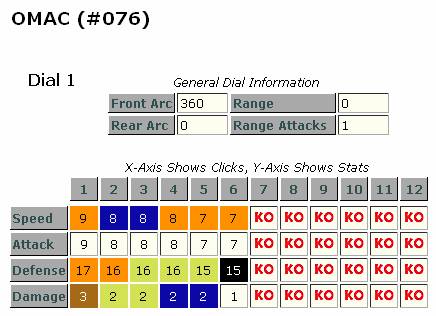 <![endif]>
Experienced: 83 points, Calculators Team
<![if !vml]>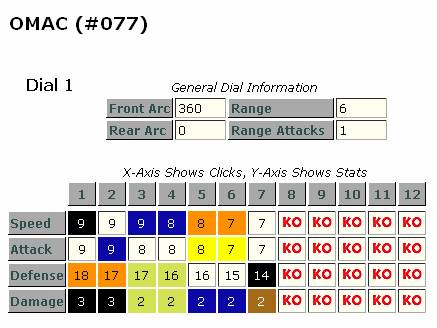 <![endif]>
Veteran: 109 points, No Team
<![if !vml]>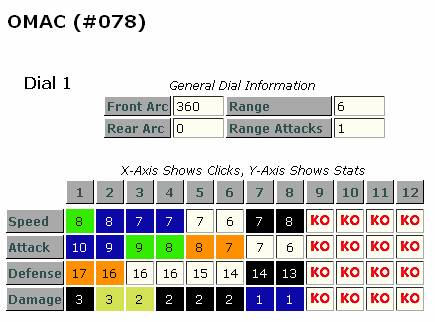 <![endif]>
LE: 124 points, Calculators Team
<![if !vml]>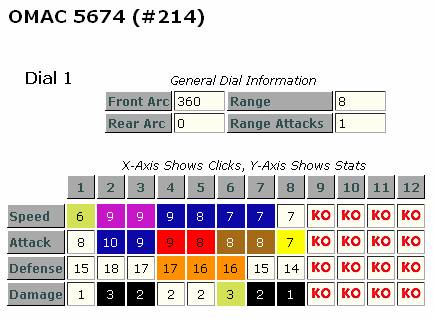 <![endif]>
Who is the Best: The Rookie has Perplex and no range, clearly the weakest. The Veteran flies, but has poor combo of charge with Psychic blast and no team ability. Clearly it is the LE or the Experienced. The LE has a push click and is 41 more points, but gains a longer range and better attack. The Experienced has front loaded Toughness later gains Exploit Weakness. They are both exceptional characters, but since it is easier to own the Experienced I will review him. WINNER: EXPERIENCED
MOVEMENT: Plasticity and Exploit Weakness with a high defense is a nice combo. Stealth on the first click is very important. The Stealth keeps him very playable even if he ends up getting hit with Disbanded or Saboteur. Leap/Climb is great to have at the end of the dial. There is no shame to running away to a medic…well very little shame.
ATTACK: 9 attack is not good when is it front loaded with nothing. His second click with Psychic Blast is great, I wish it was his first click. Pulse Wave at the end of the dial, typical but always good.
DEFENSE: Wow, 18 defense, followed by 2 clicks of 17. Toughness and a "maybe you'll get lucky" click of Regeneration at the end.
DAMAGE: 3 is a respectable damage for the point cost and the front loaded Outwit. His damage powers are pretty incredible. 2 clicks of Outwit and then when your opponent has to get close to hit you, then comes Exploit Weakness. The Shape Change near the end will give you another shot of not being hit while you're running away. Perplex at the end? Sure, why not?
SCULPT: Slightly clear and shiny blue clicks are cool
Feats: Any character that has that high of defense and a great second click should definitely have Protected on it. Incontact in Oracle is a must, pushing his 3 damage up to a much more deadly 4. Anything else on him would just be wasted points.
OVERALL:

Very well designed piece, that is always useful.

18 defense is absolutely ridiculous for his price!

9 is a touch low attack for his point cost

I think it's funny, he's a dolphin speed (the first in good one in forever). Finally a character that could use the Submerged Feat, but he is front loaded with Stealth…so there is no point.

He'd have a huge rating if not for only his second click has Psychic Blast.

Six range is not to great.
Stealth and Outwit is one of the most powerful and rarest combos in the game. Few characters are even front loaded with Outwit anymore. He reminds me a lot of Ghost Widow. Both are figures that are support/utility pieces, but super charged and ridiculously hard to kill with a hyped up powerful team ability. Ghost Widow works and is a very good piece, but her problem seems to be she has to hang back to heal. OMAC can run straight into a battle, without any worries. His high defense will only be approved with the new lower attacks on figures. OMAC has very few weakness; he can be carried by Lockjaw, Outwit a Poison team, take a good hit and still be brutal, can run away to be healed, can have his wildcard team ability abused badly and can even survive if Disbanded is played. He's a tough machine to beat, if you play against him just try to stay out of his range and to take away his support or anybody that is carrying him. Once he is all alone try to beat him from a ranged.
If you do see OMAC across the table from you, be prepared for an Infinite Crisis.
SHE RECEIVES 4.5 OUT OF A POSSIBLE 5 THUMBS UP!
Good, Bad, I'm the Guy with the Clix
Cramcompany
Questions, comments, sexually confused? Email me at cramcompany@hotmail.com.
Please no hate mail