I MISSED SENDING IN MY DOCTOR LIGHT REVIEW SO HERE IT IS.
REVIEWED BY CRAMCOMPANY
Today we'll be reviewing Dr. Light from Collateral Damage
"Physicist, Rapist, Retard and Quitter, thus has been the career of Dr. Light. He first attempted to take out the Justice League, then found that too hard he attacked the Teen Titans. After failing to kill even a single Teenager he settled for raping the wife of a member of the Justice League. Although…he was caught and had his mind wiped. Thus Identify Crisis starts and that starts Infinite Crisis, which start my current comic buying spree."
Rookie: 57 points, Calculators Team
<![if !vml]>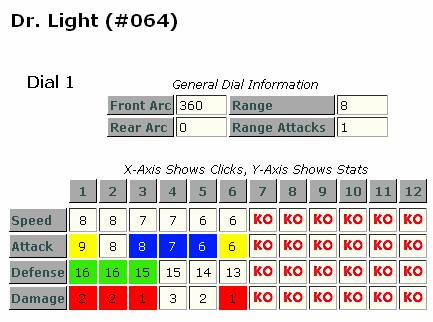 <![endif]>
Experienced: 40 points, Suicide Squad Team
<![if !vml]>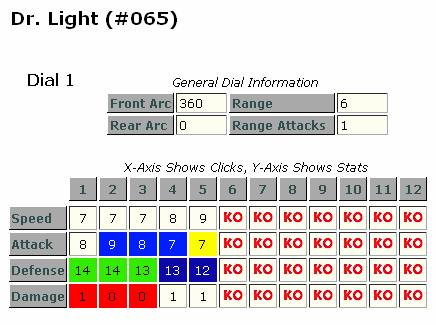 <![endif]>
Veteran: 82 points, Calculators Team
<![if !vml]>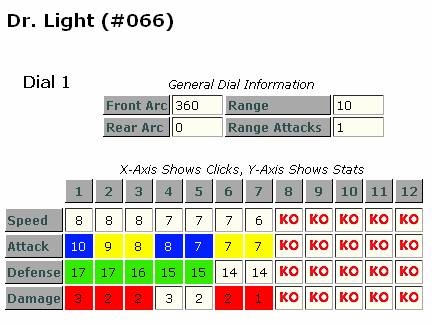 <![endif]>
Who is the Best: I like all of them. A LOT! The Experienced is cheap, has one of the best (most under-rated) team abilities in the game and has an amazing combo of mastermind and Suicide Squad. He shovels off damage and then heals when he kills the character he just damaged. However, he's worthless if he's based by a grounded figure and he had a pretty low attack and range. The Veteran and Rookie are pretty much the same character, only the Vet is more powerful for more points. In seriously competitive play I will probably use Dr. Light's Rookie version, because I do not have the points to waste and would rather feat up a Rookie then play a naked Veteran. Yet that is only taking into account competitive play at 300 point tournaments, the Veteran is clearly the superior piece, even for the extra points.
MOVEMENT: A huge exception to the rule. No movement powers, but he's still really good. Just wait keep reading.
ATTACK: 10 is a decent attack and Pulse Wave is great. Incapacitate is purely wasted on his opening click and that is a major complaint of mine. When you can do five damge, why would you Incap? His attack takes a steady predictable drop, so try to keep him near his first two clicks.
DEFENSE: Boom! This is massive 19 defense from ranged and 17 from close. He drops, but not well enough for an easy heal. Consider giving him a Suicide Squad team ability to copy and putting some Lian Harper Pogs near him.
DAMAGE: Boom! A fatal 5 from range. If you can keep him from being based by a grounded figure, he'll always do a lot of damage.
SCULPT: I like that the experienced has his classic beard, but the Veteran has his new shaved "I'm no longer retarded" look. But his "Stop in the Name of Love" pose is not the best.
OVERALL:

Trick Shot, Protected, Incontact with Oracle are all feats that would do never well on the good doctor

Pushing him once will not hurt him.

Even if you do not give him stealth, your opponent is likely to miss on a 19 defense.

Keeping a Lockjaw near him to help him run away is great

Disbanded and Poor Team Work will wreck him. So will the rare people using Reflector Sheild.

Could he be a Nebula replacement?
I've been drooling over Dr. Light for quite a bit. Usually each set has about 5 characters that will see consistent play, Superman, Dr. Midnight, Emerald Empress, OMAC and more then likely Dr. Light, (Shadow Lass be played a lot too). Again, I think I will play the Rookie and use the extra points to build into his team ability power. The Veteran will be heavily protected, essentially 20 defense standing on an object and 5 ranged damage is sure to really hurt somebody. Pushing and sacrificing an adjacent Lian Harper POG should be very common occurrence. I recommend carting him around with a Lockjaw and using Trickshot. Ironically your opponents Lockjaw can easily base Dr. Light and with the Dog's long dial he will be Light's greatest foe. Incontact with Oracle (with Oracle) and Trickshot can allow him to outwit anybody's defense and deal 6 clicks the hard way.
Dr. Light is not that great on his own and not a powerful draft choice, but he is an amazing constructed character. Watch out for Disbanded and Poor Team work and he may be able to dish out the proper revenge on all of those that messed with his mind.
So just to sum up Physicist + Rapist + Retard + Quitter = Very Good Hero Click,
but so does Dog + Tuning Fork.
SHE RECEIVES 4.5 OUT OF A POSSIBLE 5 THUMBS UP!
Good, Bad, I'm the Guy with the Clix
Cramcompany
PS: Props to Dario for making the very accurate Hawkeye comparison. He's no Hawkeye (5 Thumbs Up Character), but with the right team he could be a very close second.
Questions, comments, sexually confused? Email me at cramcompany@hotmail.com.
Please no hate mail