REVIEWED BY CRAMCOMPANY
Today we'll be reviewing Felix Faust from Collateral Damage
Felix Faust is a Magician. A Magician that has a neat little wheel, a pot and I think a really weird bell.
Unique: 96 points, Mystics Team
<![if !vml]>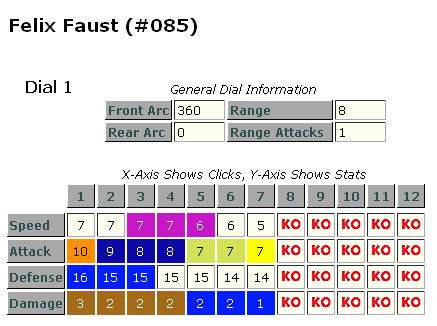 <![endif]>
MOVEMENT: Wow, terribly movement combined with no movement abilities…oh wait force blast.
ATTACK: I have used energy explosion two or three times out of the 1,000 times I could have used it. The fact that he has Psychic Blast is great, but why on his second click. If he has it on his first click he'd be much better. Pulse Wave is never a bad thing and quake is really never used.
DEFENSE: Barrier a very nice ability for a second string character like Felix
DAMAGE: Great, great, great. 3 damage with perplex to start is very nice. Probability Control is a nice second ability. His damage does get low too fast so he can no be pushed.
SCULPT: Holding the click in front of me, I can safely say he looks about 47 times more Sissy then he does in the picture.
OVERALL:

One of the better team abilities in the game.

10 attack is pretty good for new sets.

No move and shoot is always a major negative.

If he had Psychic Blast to start he's be at least a four star character

Very versatile

Damage, Attack and Defense all drops very fast

His defense never drops below a 14 and that will make him hard to heal.

His 7 clicks of life will go quickly without any damage reduction.
Versatile is the key word with Faust. At first look he is terrible, low defense and no move and shoot should make him terrible, but on second look he may be pretty good. He is a very good support piece that can be a third string attacker. He has Mystics, which is great for copying and will usually run you 50 points or so. He has Perplex which is at least a 11 point ability. He has Barrier which is at least thirty points. If you combine all of those points, he feels about right. On a 500 to 600 point game I really think that he may be a good choice. He just has a lot of good options and that's what makes him playable. Beware, protect him well, because he has a glass jaw and is easy to hit.
SHE RECEIVES 3.5 OUT OF A POSSIBLE 5 THUMBS UP!
Good, Bad, I'm the Guy with the Clix
Cramcompany
Questions, comments, sexually confused? Email me at cramcompany@hotmail.com.
Please no hate mail