REVIEWED BY CRAMCOMPANY
Today we'll be reviewing Kalibak from Collateral Damage
The son of Darkseid and Half brother of Orien. Kalibak is often shunned by Darkseid for his "Gosh Darn Hippy Haircut!' In one comic Darkseid gives Kalibak a Gift card to his barber where he can get a sensible haircut and then a nice steady job. Kalibak flew into a rage and told Darkseid that he was "a musician! Just nobody understand my music!" This tantrum is represented by Battle Fury on his dial.
Unique: 140 points, No Team
<![if !vml]>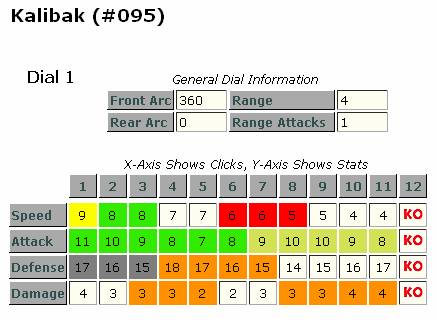 <![endif]>
MOVEMENT: I really hate when characters start with phasing or leap climb and then get a move and attack. This lowers the value of the move and attack greatly. I do love flurry.
ATTACK: I would say pretty good. Not KC good, but with a lot of spikes and few dips below 9, he'll always be able to hit. Super Strength and Quake are almost too standard to mention.
DEFENSE: Sure he has a 17 and an 18 spike. That is definitely nice, but I think he should have more and better damage reducers for his point cost. Impervious then three clicks of Invulnerability and Toughness for the entire dial is what I would have liked to have seen.
DAMAGE: Finally a character that starts off with his best click of damage. His damage should be four for a lot longer, but at least it is 3 for most of his dial, then back up to four.
SCULPT: He really looks like a Metallic fan during a riot. I love the fullness of the new sculpts.
OVERALL:

Decent damage for the points, but remember Havok does 4 damage and he's 44 points.

Battle Fury randomly inserted in will definitely ruin his 4 range.

He stays useful for his amazing 11 clicks. More then most Superman figures.

If this game was just one figure vs. one figure, he'd be amazing and would outlast most figures.

This game is not one figure vs. one figure.

Battle fury at the end makes him hard to be carried away and healed.
Once again I am reviewing a Brick character. He reminds me most of Ulik, about the same point cost, defense and damage. Ulik is so much better though. He never has Battle Fury and he has Close Combat Expert. The reason I mention Ulik is he is still never really played, but he is much better then Kalibak. Thus Kalibak is not that great. He is a 3 thumbs up brick when compared to bricks, but he is being compared to everyone.
"Kalibak! You Dang It Hippy Cut Your Hair"
SHE RECEIVES 2 OUT OF A POSSIBLE 5 THUMBS UP!
Good, Bad, I'm the Guy with the Clix
Cramcompany
Questions, comments, sexually confused? Email me at cramcompany@hotmail.com.
Please no hate mail
PS: Here is a more proper review of Colossal Boy. Thanks to everybody that pointed out my error.