REVIEWED BY CRAMCOMPANY

Today we'll be reviewing Rita Farr from The Giants Special Edition

Rita Farr is part of our Giants Week here on POJO

FIRST A WORD ABOUT GIANTS: Giant figures can see and be seen through characters. They occupy an extra row of squares. These figures can not be telekinesised or carried, AND they can also not carry other figures. Being a Giant figure makes you a Giant target and a Giant liability. I think you should minus 20 points if you're a giant.

To learn more about the special conditions of giant figures visit: http://www.wizkidsgames.com/heroclix/documents/DC_Icons_Rulebook.pdf

It is on page 16 of this rule book link.

Rita is obviously a character from one of those Twilight Zones where they go to the future and everyone is wearing nearly the same thing. At first I was unsure, but her mom style 60's hair cut and purple future boots were a dead give away.

Experienced: 76 points, Outsiders Team

<![if !vml]>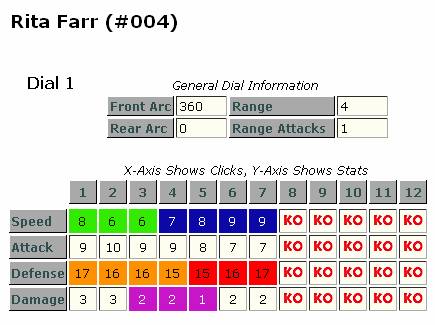 <![endif]>
MOVEMENT:
Charge is a decent starting ability. Later on the Plasticity makes her a nice tie up piece.
ATTACK
:
No abilities, but the first four clicks are an adequate attack for her point cost.
DEFENSE:
Super Senses is nice at the end and her toughness will make her dial seem a little longer. She will be very hard to heal with the defense spike at the end.
DAMAGE:
Close Combat Expert is Nice in the middle and good for Giant Figures. 3 damage does not do much for me, when you have to classify her as a brick.
SCULPT:
I am not a proud man, but I would have a hard time playing her in a tournament based mainly on her looks. I will however add her to my twilight Zone memorabilia collection.
OVERALL:

4 range is better then the typical zero on Giant Figures.

Outsiders team is a weird one, but it works a little like a fortitude that you can use each turn. It prevents Outwit and Perplex and anything else that may modify the combat dial. Do not quote me on the Outwit though. I have never actually run into anyone playing this team.

Outsiders team ability can not be copied.

3 damage always makes me wonder why I would play a character.

Pretty nice defense for the points.

Attack or damage needed to stand out more.
Rita is by no means a really good figure. She has some fun abilities, super senses and plasticity at the end. But why would you play with her? Her team ability can not be copied, she does not do much damage and when she does attack she may not hit. Her charge is about as low as The Blobs (not a fat joke Rita). The defense spike means she is all but un-healable. Why play with her? She is about as average as she can be. Completely average except for the fact she wears a belt with a dress.
SHE RECEIVES 1.5 OUT OF A POSSIBLE 5 THUMBS UP!
Good, Bad, I'm the Guy with the Clix
Cramcompany
Questions, comments, sexually confused? Email me at cramcompany@hotmail.com.
Please no hate mail