REVIEWED BY CRAMCOMPANY
Edited by Jamie Lewis
Today we'll be reviewing Super-Nova from Super Nova
The Nova that should have been.
Unique: 91 points, No Team
<![if !vml]>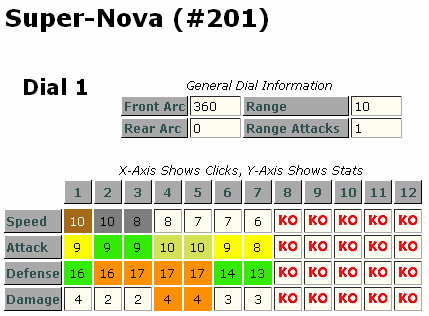 <![endif]>
MOVEMENT: Front loaded Hyper Sonic Speed and under 100 points. That right there is worth 3 stars. Running Shot on his next two clicks is not too bad either.
ATTACK: His attack is his weakest part. 9 is reasonable considering the rest of his dial is absolutely broken. But he does have Pulsewave as well, so he can really be both Flash and Emerald Empress.
DEFENSE: 16 with Energy/Shield is pretty darn good on a Hypersonic Speed figure. Those figures usually get attacked at a range so they'll probably be hitting on an 18. Hey, it works well for Veteran Strange!
DAMAGE: As a general rule there are only 2 types of Hyper Sonic Speed figures. Those that are around 100 points or lower and hit for 2 damage. The other type are those that are over 200 points and hit for 5 damage. Whenever this formula is broken the figure becomes broken. Such as Black Adam, LE Aurora and Robot Superman. Let's see Nova is 91points and hits for... 4 damage!!! Uh.... where did this come from?
SCULPT: I love most of the sculpts, but sometimes the poses are just too generic.
FEATS: Nanobots is perfect, he drops to 2 damage on his second click so it is easy to push and then Nanobots up. Protected is a must so he never gets hit out of the game in one hit. In contact is also a must to balance out his lousy attack. Nova blast works well, because you can use Nanobots to heal those two clicks.
OVERALL:
<![if !vml]>

<![endif]> 10 range with a single target
<![if !vml]>

<![endif]> Not just a Hyper Sonic Speed figure, but also a flyer
<![if !vml]>

<![endif]> Easy to heal
<![if !vml]>

<![endif]> High Defense from ranged
<![if !vml]>

<![endif]> 7 long clicks
<![if !vml]>

<![endif]> Can survive Inertia Inference Field
<![if !vml]>

<![endif]> Has a reach of 15 squares
<![if !vml]>

<![endif]> Having a TKer with him is a must
Wow... this character is broken beyond belief. While you can not use Pulsewave and Hyper Sonic Speed together it gives you an amazing amount of options. As long as you have TK you can sling shot him out into the fray and have him run away. Or you can TK him into the fray and have him Nova Blast your opponents' entire team. Have him heal up those 2 clicks with a well placed Nanobots object and then have him push to Hyper Sonic Speed attack and run away to yet another object. The key here is he is the best Hyper Sonic Speed character under 100 points and he's one of the best Pulsewave figures in the game today. Combining two of the most dangerous abilities in the game makes for one of the most dangerous figures ever made. This is the second best figure in the set hands down.
HE RECEIVES 5 OUT OF A POSSIBLE 5 THUMBS UP!
Good, Bad, I'm the Guy with the Clix
Cramcompany
Questions, comments, sexually confused? Email me at cramcompany@hotmail.com.
Please no hate mail
Warning global warming fun facts: The most energy-efficient CF bulbs carry the Energy Star label, the imprimatur of the government-backed energy efficiency program. (More about how bulbs qualify for Energy Star.)