REVIEWED BY CRAMCOMPANY
Edited by: Jamie Lewis
Today we'll be reviewing Jessica Jones/Jewel from Sinister
So many people play this character; I felt she warranted a full review.
Rookie: 39 points, Avengers Team
<![if !vml]>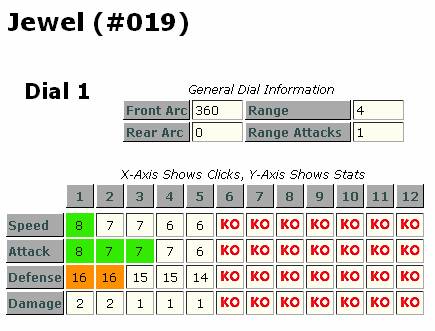 <![endif]>
Experienced: 45 points, Spider-Man Ally Team
<![if !vml]>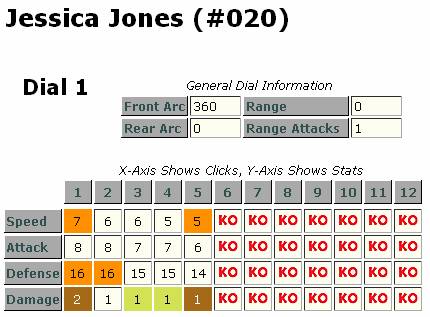 <![endif]>
Veteran: 51 points, Avengers Team
<![if !vml]>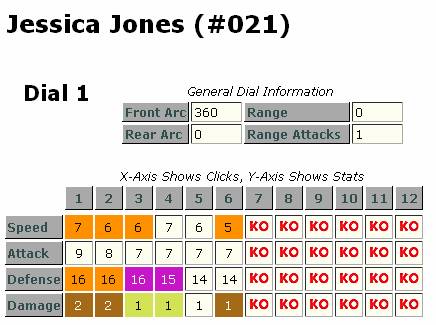 <![endif]>
Who is the Best: In my opinion none of them are that great. I would say the rookie with Avengers and Charge is the best. However, I'm going to review the ultra popular Experienced Winner: Experienced
MOVEMENT: 7 with Leap/Climb is nice for getting to the person you want to Perplex. Leap/Climb at the end will help you run away… although I'm not sure to where or why you would want to run away.
ATTACK: 8 attack… that is bad. But at least it drops Ultra Fast.
DEFENSE: 16 with Toughness will make her short dial mildly less short. It will also save her from being killed by really small figures.
DAMAGE: 2 damage with Perplex. Her second click is blank, Exploit Weakness near the middle when she would have to get REALLY lucky to hit for one real damage. Perplex at the end may help.
SCULPT: Sexy in a Film Noir sort of way. What's in the vile?
feats: I would not feat her. But if you have a Batman Ally on you team, that would really help.
OVERALL:

No Range

Low Attack and Defense

Toughness is nice

Wildcard is nice

Other then one click of Perplex, what does she do?

She can not be pushed or she will be useless
I have many of the same points I had when reviewing Multiple Man. http://pojo.com/heroclix/COTD/2006/Aug/08.shtml The question is this, why do you need a 45 point Jessica Jones? The answer is Perplex, because she really can not do anything else. So that brings us to the next question, what is the price of Perplex? The first answer I can come up with is NOT 45 points! Con Artist is 11 points and that admittedly was a little cheap for Perplex. We all agree that In contact with Oracle is great and in most cases that is enough. Dealing one extra damage each turn is great, but not at the price of another attacker. Havok deals 4 damage, has Leadership, an 18 defense from (deleted word) range and a 10 attack, Oh, and he's one point less.
What's the price of Perplex? I think In contact and then Oracle on the card is the most I would ever pay. If you're paying (deleted word) 45 points for a new shinny Perplexor, you've just bought a losing lemon.
IN SHORT: STOP USING JESSICA JONES!!!!
SHE RECEIVES 0.5 OUT OF A POSSIBLE 5 THUMBS UP!
Good, Bad, I'm the Guy with the Clix
Cramcompany
Questions, comments, sexually confused? Email me at cramcompany@hotmail.com.
Please no hate mail
Fun FACt: I'm 7 – 0 in Heroclix World Championships. Thought we all might need a rest from the Global Warming stuff.