REVIEWED BY CRAMCOMPANY
Today we'll be reviewing Forge from Sinister
He has the mutant power to build ANYTHING. Thus officially having the most vague mutant power ever..
Unique: 84 points, X-Men Team
<![if !vml]>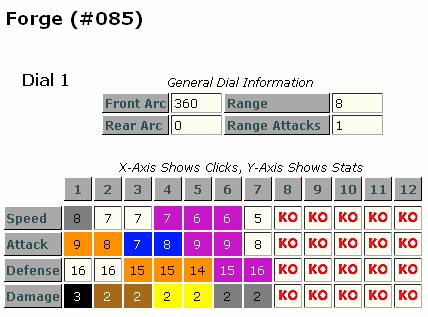 <![endif]>
MOVEMENT: A single click of Running Shot and then Force Blast. The Running Shot is good.
ATTACK: 9 then 8… then back up to nine in the middle. Energy Explosion, Incapacitate and Smoke Cloud. Yep, that's officially ever attack power I never use.
DEFENSE: 16 with nothing. That is awful. Toughness in the middle where it is not that useful and Willpower at the end just where I do not want it. I want to flip his defense.
DAMAGE: 3 damage and Outwit, finally a bright spot. Perplex and then Support is pretty darn good, but the new Support is not as good. Leadership at the end of his dial…. that's not very useful.
SCULPT: He's pretty sweet.
OVERALL:

Running shot on his opening click is nice

Outwit on the opening click is always great

The Perplex is going to wasted on his own attack

Support was good in the last 15 sets, but not any more

His 6th and 7th Click is almost better then his last

He is WAY to easy to hit.ealHeal
Wow, this entire set is just REALLY disappointing so far. I love Forge, but he is just not playable. Anybody with opening click of Outwit automatically earns 2 stars, but he's put together so poorly that he can not warrant anymore then just 2 stars.
HE RECEIVES 2 OUT OF A POSSIBLE 5 THUMBS UP!
So Far the worst set ever. STILTMAN BETTER BE A GOD!
Good, Bad, I'm the Guy with the Clix
Cramcompany
Questions, comments, sexually confused? Email me at cramcompany@hotmail.com.
Please no hate mail