REVIEWED BY CRAMCOMPANY
Today we'll be reviewing Spider-man from Sinister
I'm so happy, finally Spider-man as a Hero click. Thank you Wizkids!
Unique: 98 points, Spider-man Team
<![if !vml]>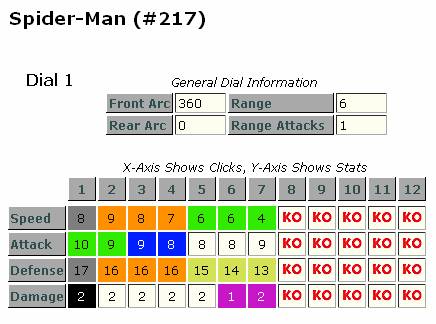 <![endif]>
Before anyone freaks they've changed the rules of Combat Reflexes.
COMBAT REFLEXES (optional): Modify this character's defense value by + 2 against close combat attacks. This character may choose to be knocked back by any attack from which it takes damage. Knockback damage dealt to this character is reduced to 0.
MOVEMENT: Running shot on Spider-man? Whoa, let's not make him too useful. Acctually this is bad, because it means that he would have to push to use the Pounce Feat. Leap/Climb then Charge that would great…if it was reversed.
ATTACK: A decent starting 10 and never going below 8 is pretty decent. Super Strength is Fantastic with Pounce…but since he has Running Shot and can not use Pounce on his opening click it is not that great. One target Incapacitate is almost to useless to mention.
DEFENSE: 17 with Invulnerability! Way to go Spider-man. The end of his dial with Charge and Combat Reflexes is a very nice combo.
DAMAGE: 2 damage and a Spider-man figure…hmmm that reminds me of… almost every Spider-man figure ever made. Outwit to start is fantastic and Close Combat Expert at the end.
SCULPT: I've always wanted to see Spider-man do a Singing in the Rain impression. It also reminds me of my favorite Richard Simmons Picture.
Spider-man is the one on the left.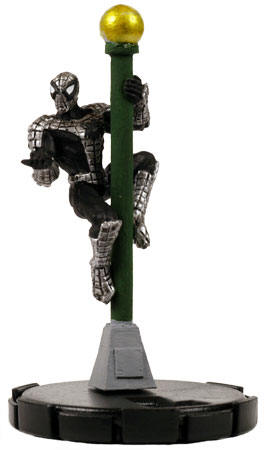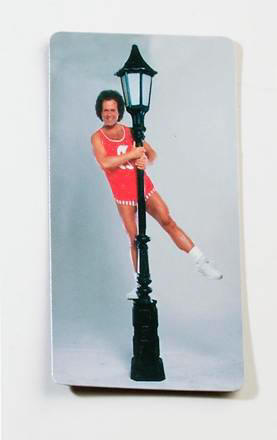 Feats: Don't bother using Pounce, but Incontact with Oracle and Protected are still a must. Other then those two Feats save your points to abuse his wildcard ability.
OVERALL:

Opening click Outwit is never bad

He has a movement power every click

I wish I could rearrange his movement powers

So new fun powers for Spider-man

A wildcard with Outwit is easy to abuse

Not nearly as useful as the Armor Wars Spider-man

Looks much more like this Richard Simmons picture then any other Spider-man
For 98 points he's just not that great. Sure if you build a team around him he's decent, giving him a 19 defense and Stealth would make him good, but he still just does 2 damage up to 10 squares away. What more can I say, there is no tricks with him, he just simple does not do that much damage and he's not that hard to hit (new standard) 17 defense. There is nothing that great.
Spider-man RECEIVES 2 OUT OF A POSSIBLE 5 THUMBS UP!
Good, Bad, I'm the Guy with the Clix
Cramcompany
Questions, comments, sexually confused? Email me at cramcompany@hotmail.com.
Please no hate mail