REVIEWED BY CRAMCOMPANY
Today we'll be reviewing Felix Faust from Collateral Damage
Based on the robot's Superman can build, he's missing his calling. Seriously he can build a Hyper Sonic Robot, I'm thinking I'd rather have Supes cure cancer then fight Braniac.
Experienced: 100 points, Superman Robot Team
<![if !vml]>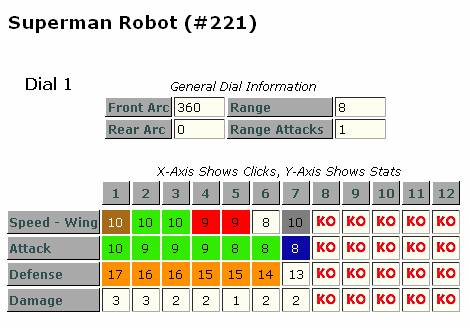 <![endif]>
MOVEMENT: Hyper Sonic Speed on the first click. Nothing is better! Then Charge, Flurry and Running Shot…what more could you want? For a hundred points it's perfect.
ATTACK: Hyper Sonic Speed and Super Strength, the Black Adam combo that has won many world tournaments.
DEFENSE: 17 with toughness, I'll take it. It's not great, but he's a hundred points.
DAMAGE: 3 damage for 2 clicks worker well enough for Black Adam.
SCULPT: I'm using Superman Robot sculpt no matter what Superman I'm using.
OVERALL:

Hypersonic Speed and Super Strength is the best combo possible

10 attack and 17 defense is pretty darn good for the points

This is the cheapest figure ever made with that powerful of a power combo

He will have a 4 range when making a Hypersonic Speed attack

Even with a 17 defense I would still rather have 15 with Impervious

I heard a 2 year Subscription to get 3 Supermen Robots is $82. Pretty mean Wizkids.

You can use more then one, he's not Unique or an LE
How in the world did they make this figure? 100 points for Experienced Black Adam! That is fricken Ridiculous! But he's actually better then Black Adam, because this Superman Robot can easily use Nanobots and he has a range. Beyond ALL of that he has Superman Team ability so he can still run through hindering terrain even if Crosswinds is played. Plus he can pick off those pesky Stealthed Characters. This is deceptively one of the most powerful figures ever made in any set and will be in the ranks of Lockjaw and Firelord. He will easily make my top five best figures list, especially since Nanobots will be king with the neutered healing.
SHE RECEIVES 5 + OUT OF A POSSIBLE 5 THUMBS UP! Perfect!
Good, Bad, I'm the Guy with the Clix
Cramcompany
Questions, comments, sexually confused? Email me at cramcompany@hotmail.com.
Please no hate mail