REVIEWED BY CRAMCOMPANY
Today we'll be reviewing Beast from X-Men Danger Room
You know that friend that always talks above your head and you're not really sure if he's B.S. ing you. Eventually nobody listens to that guy and you start "forgetting" to invite him to parties. In the X-Men Beast is "that guy".
Unique: 60 points, X-Men Team
<![if !vml]>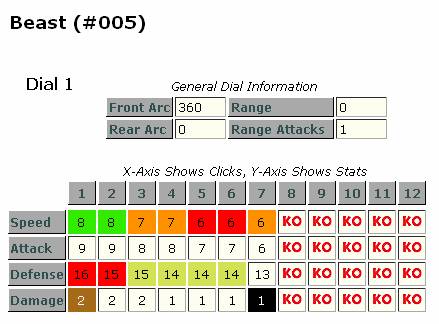 <![endif]>
MOVEMENT: Charge on his first click is very good. I like Leap/Climb at the end of the dial so he can run to a medic or run to Nanobots. Flurry is nice, but he only hits for 1 so toughness is really tough.
ATTACK: 9 attack is not my favorite to start. Nothing on his attack does not make me like him anymore.
DEFENSE: 16 with Super Senses for 60 points I will say it is pretty nice. Combat Reflexes after he Charges in is a very good idea.
DAMAGE: 2…L The opening Perplex is great, but pretend the Outwit does not exist, because you will never land on it and if you do…somebody will kill you before it matters.
SCULPT: Beast is the coolest sculpt of the X-Men. He looks straight out of Collateral Damage.
OVERALL:

Charge is great to start.

He has no range

Perplex up front is fantastic

Paying the points of a last click Outwit bites.

His low attack will force you to Perplex up his own attack instead of damage.

Did I mention the new rules of Combat Reflexes make him pretty darn good.

Did I just say something good about Combat Reflexes?
ealHeal
Beast seems pretty good at first his best click is his first one. But how good is that first click? He hits for only 2 clicks and it is not easy to hit with all defenses being 17 now. He is kind of a supporting Perplex character and while those can be good, 60 points is 40 points too much. Incontact is too cheap pay for and at some point Probability Control is just plain more cost effective then Perplex.
HE RECEIVES 2 OUT OF A POSSIBLE 5 THUMBS UP!
Good, Bad, I'm the Guy with the Clix
Cramcompany
Questions, comments, sexually confused? Email me at cramcompany@hotmail.com.
Please no hate mail