REVIEWED BY CRAMCOMPANY
Today we'll be reviewing Angel from X-Men Danger Room
I bet a lot of the other X-Men call him Fairy. I bet Angel cries at night.
Unique: 50 points, X-Men Team
<![if !vml]>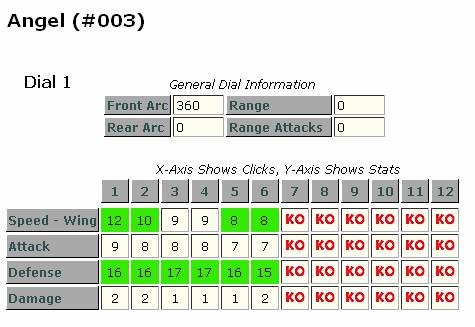 <![endif]>
MOVEMENT: Hello 12 movement! 6 charge is as good as it gets…for Charge.
ATTACK: 9 is no longer great and 8 on a second click is darn horrible. Funny enough 132 point Eclipso has the same attack values,
DEFENSE: 16 with Energy/Shield Deflection is pretty good for the points. But here is the problem…Energy/Shield only works from a range and he has charge…see where this starts to fall apart. Then his defense goes up…which is nice, but I would have liked to see it on his opening click.
DAMAGE: 2 that will really mess some people up…unless they have Invulnerability or Impervious…then I guess you can't do any damage to them.
SCULPT: See the Fairy comment. (Please note that this is not an Anti-Homsexual remark, relax and allow the joke to slide.)
OVERALL:

12 movement is great and he can carry somebody.

12 is 6 with charge and 6 good for charge

2 damage is bad

9 attack means he will not always be able to hit for 2 damage.ealHeal
Angel is like Beast at first he seems good, but when you really break him down he's not good enough. He is a great transport character, but can't do much other then that. There is too much luck involved for him to be able to damage and oppenent.
HE RECEIVES 1.5 OUT OF A POSSIBLE 5 THUMBS UP!
Good, Bad, I'm the Guy with the Clix
Cramcompany
Questions, comments, sexually confused? Email me at cramcompany@hotmail.com.
Please no hate mail