REVIEWED BY CRAMCOMPANY
Ahh…War machine….YOU ARE IRON MAN WITH GUNS! GIVE IT UP! YOU"RE A LAME GRAY COPY!!!
Nuff Said.
Rookie: 94 points, No Team
<![if !vml]>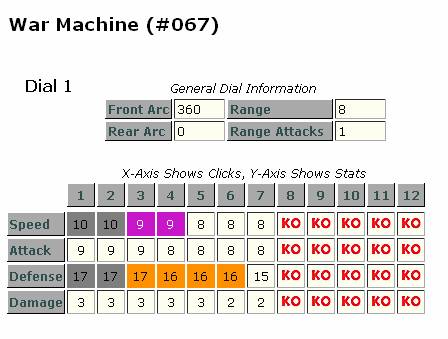 <![endif]>
Experienced: 109 points, Avengers
<![if !vml]>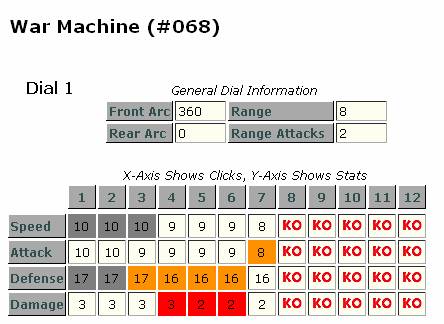 <![endif]>
Veteran: 124 points, No Team
<![if !vml]>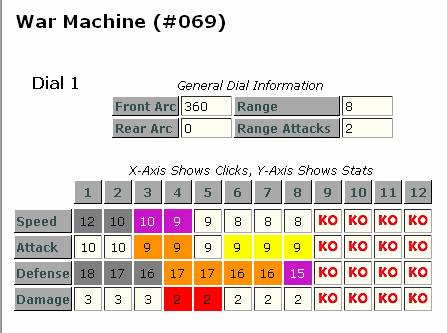 <![endif]>
Which one is better?: Each version is good. War Machines' attack is the all star part of this figure. It's perhaps the most consistent attack since Ultimate Thor. The rookie is not the best, since his attack is consistently 8. The Experienced and Veteran are similar in stats, but WAY different in powers. The Vet has pulse wave, force blast, a higher opening defense and an extra click. The Experienced is cheaper, has an extra click of running shot, more ranged combat expert and a higher defense at the end. The Experienced has one other thing the Avengers team ability. Avengers team gives War Machine potential and potential makes him the winner.
WINNER: EXPERIENCED
MOVEMENT: Running shot with a long range. Push him once or twice and he is still good.
ATTACK: That 10 and 9 attack is fantastic to have midway down the dial.
DEFENSE: Invulnerability and toughness throughout with a high and consistent defense. Be warned, he is hard to heal.
DAMAGE: 3 is terrible. Do not kid yourself. He must be In-contacted and Perplexed. Ranged Combat mid-dial is a nice surprise for you and a knife in the throat to your enemies.
SCULPT: Every set of clicks has a better and better sculpt.
OVERALL:
ˇ Very good for the long haul.
ˇ He needs to carry around a DEO Agent. She can not only perplex him, but use police team to up his attack.
ˇ Thunderbolts and In Contact with Oracle are not options with this character, but mandatory points to be added.
ˇ His defense never falls below a 16
ˇ His attack is nearly always a 9
ˇ Thunderbolts could hive him Mystics, Stealth, Suicide Squad, Green Lantern or Ultimates. All of these are solid options.
ˇ He MUST be perplexed or he will be worthless.
ˇ Lots of damage reduction
ˇ HE'S SHINY!!!!!!
War Machine is NOT broken. But he is consistent and well designed. His damage is low, but that weakness can be overcome with ease…the ease of In-contact with Oracle. He runs and guns, is hard to hit and never has a bad click. He SHOULD not change the game, but he could make an impact. Ultimate Thor made an impact the size of a meteor due to his incredible attack. War Machine is similar to Thor and could even be stealthed with a higher defense. The difference in points between the two figures is 85 and that buys a lot of support. Will that make him better then Ultimate Thor? Either way he is just a Gray version of Iron Man….with guns.
HE RECEIVES 4.5 OUT OF A POSSIBLE 5 THUMBS UP!
Good, Bad, I'm the Guy with the Clix
Cramcompany
Questions, comments, sexually confused? email me at cramcompany@hotmail.com.
Please no hate mail