REVIEWED BY CRAMCOMPANY
Today we'll be reviewing Mystique from Armor Wars
As my favorite writer Joss Whedon (Buffy, Firefly) says; "Blue Chicks are hot!"
Nuff said!
Unique: 52 points, Shield Team, 6 range with a single target.
<![if !vml]>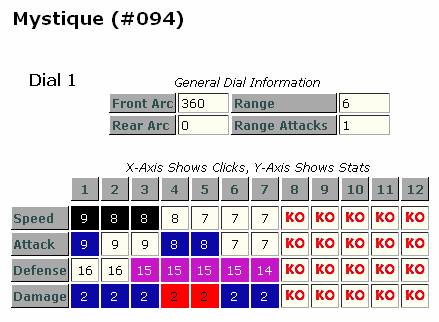 <![endif]>
MOVEMENT: Stealth is good, but it is no running shot.
ATTACK: Only one click of psychic blast to start…so I guess you can't push her.
DEFENSE: Just terrible. Willpower it is useful, only when it is worth attacking.
DAMAGE: YES! My favorite ability…shape change. The excellent combo of psychic blast and ranged combat expert.
SCULPT: The gold looks pretty sweet.
OVERALL:
ˇ Shape change and stealth is pretty neat together.
ˇ The powers are horribly placed.
ˇ Willpower after you click off her "best" clicks
ˇ Ranged combat expert or psychic blast which will you choose? It usually will not matter.
ˇ The second and third clicks are pointless
ˇ 2 damage L
ˇ Low defense
ˇ Low attack
ˇ Rarely used team ability.
ˇ She is like an expensive Asp with a lower damage.
ˇ No upsides.
She is just horribly designed. The powers are okay, but they need to be mixed up and placed differently. Willpower to start with stealth on the first, second and 4 forth click. Ranged Combat expert to start, not in the middle. But she is a mess just like the wacky world she comes from.
That being said…blue chicks are hot.
HE RECEIVES 0.5 OUT OF A POSSIBLE 5 THUMBS UP!
Good, Bad, I'm the Guy with the Clix
Cramcompany
Questions, comments, sexually confused? email me at cramcompany@hotmail.com.
Please no hate mail