REVIEWED BY CRAMCOMPANY
Today we'll be reviewing MANTICORE from CITY OF VILLANS/CITY OF HEROES
Skip the who he is….because I don't know. I do know that the City of Villains giant, special edition, limited, gold, sealed, super box that has the COMPLETE SET of these Heroclix costs about $100. And based on what was just released…may not have all the figures in it. So if you're like me and don't play video games/computer games….you're basically spending $10 a click. But that's just for those people that like a complete set….they wouldn't possibly make them tournament legal….oh they are tournament legal? Well, at least their not broken and must play click?.......uh-oh!
They're all LE's…so at least you won't be able to play two, so you will not have to own multiples of each.
POINTS: 87.
<![if !vml]>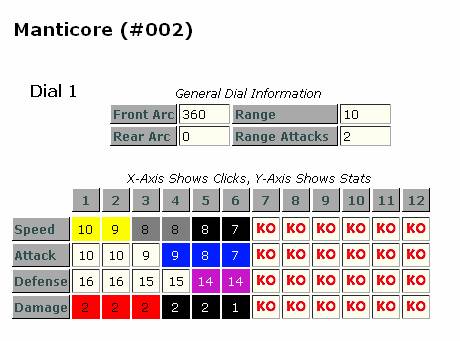 <![endif]>
MOVEMENT: Phasing is not my favorite ability to start with, but my favorite to end with….stealth to end, will be very interesting. Could really save him from being offed by a lesser character.
ATTACK: Solid attack. Incap at the end with two targets is becoming rare and the ten range will work well with that.
DEFENSE: Pretty low, but the will power at the end will help to get him to escape.
DAMAGE: 2, but with ranged combat we will say 4 damage. When is outwit bad?
SCULPT: Not too bad. All the sculpts are good now days.
OVERALL:
Ø The Wildcard team ability is what makes him so darn good. Ultimates, Batman, Mystics and sharing Sue Storm's defense. That will make him deeply powerful.
Ø The long range and double targets will make him great.
Ø Lockjaw and Manticore will make a great team. Use trick shot on Manticore and he can hide behind lockjaw and shoot. Double time on Lockjaw combined with Manticore great range could put him always out of harms way.
Ø Manticore has so much potential. Trick shot and wild card with that long of range is something only Livewire comes close to and Manticore is much more powerful.
Ø His speed dial is really screwed up.
Ø Low defense, but that can be fixed by giving him stealth or sharing a high defense.
Ø He has a very high and consistent attack.
Ø He will still die in 6 clicks, no matter how many teams he has.
I like him a lot. I have every intention to play him, when the right team becomes available. I view him like Ultimates Hawkeye, with more potential. He's very sensibly priced and I think he could be a top contender. If a disassembled hits the board then he's not going to be nearly as good, but Lockjaw can really help him even if he has no other teams to abuse.
HE RECEIVES A 4.5 OUT OF A POSSIBLE 5 THUMBS UP!
Keep it Clicking
Cramcompany
Questions, comments, sexually confused? Email me at cramcompany@hotmail.com.
Please no hate mail
PS: I promise more consistent updates for Pojo! You have my word.