REVIEWED BY CRAMCOMPANY
Today we'll be reviewing Longshot from Mutant Mythem
Longshot is a great idea. Pretty much the typical action hero. The action heroes always bothered me a lot, because they were so darn lucky. How come 100 terroirsts all can not aim a gun at a man running at him. Longshot solves this mystery with the mutant power of luck. This would explain a lot for Arnold. Not just because of the 1,000 near misses in True Lies, but a lot more about the Governor ship.
Unique: 66 points, X-Men
<![if !vml]>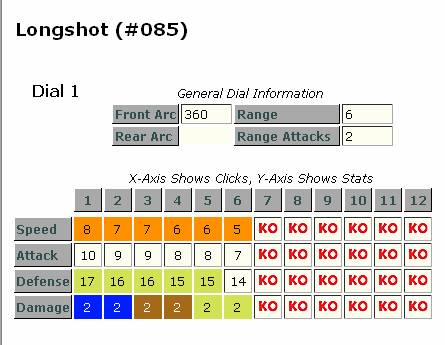 <![endif]>
MOVEMENT: Leap climb will help him escape or just run in and out of that bush, without losing movement, but still gaining the plus one damage.
ATTACK: Decent attack
DEFENSE: I hate combat reflexes
DAMAGE: Prob control, then perplex and exploit weakness, that's a lot of nice abilites bit abilities. Oh wait…he only hits for 2! L
SCULPT: Kind of boring, what's he even doing?
OVERALL:
ˇ Two targets is decent, if he hit for 3.
ˇ Love his damage powers
ˇ If Domino did not exist, he'd be the best X-men probability controller.
ˇ High defense at the beginning is alright.
ˇ Not long enough dial
ˇ He has a major target on his chest, due to his high cost.
ˇ He'll be able to save his own butt with prob control
A bit back, I traded pretty heavily for him and I do still see him once every three or five tournaments. I just never see him on the winning side. He's so darn easy to kill. 6 clicks means, he'll probably get attacked twice in the same turn and never be able to get healed. A con artist and a destiny are much better tools to use, instead of him.
He does take some thought though. Thanks for making me review him fellow clickers.
SHE RECEIVES 2 OUT OF A POSSIBLE 5 THUMBS UP!
Good, Bad, I'm the Guy with the Clix
Cramcompany
Questions, comments, sexually confused? email me at cramcompany@hotmail.com.
Please no hate mail
PS: YES! A 1 POINT POG! I will except trades and or buy any of the new one point pogs!!!! Send inquires to my email!