REVIEWED BY CRAMCOMPANY
Today we'll be reviewing Wolverine from Armor Wars
Just like Spider-man, Wolverine is the whore of the Marvel Universe. Joining every club, team and group that has ever existed. He appears on more comic covers then the Marvel Logo . I remember reading Darkhawk, Ghost Rider and Venom as a child. I remember seeing Wolverine's cigar chopping grin on the cover of all of their books before any of their tenth issues.
This version of Wolverine is from when he glory hogged Nick Fury by became an Agent of Shield.
Unique: 60 points, Shield Team, 6 range with a single target.
<![if !vml]>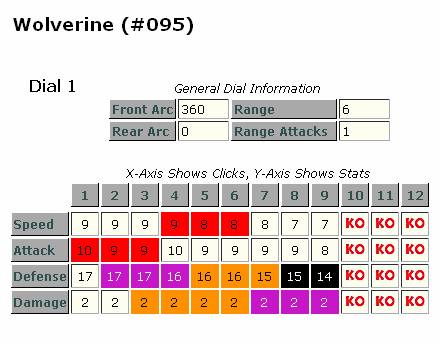 <![endif]>
MOVEMENT: Flurry, but not with blades claws…..no stealth.
ATTACK: Blades Claws on the first part, until he gets mad enough to have battle fury, then he pulls them in…..hmmmm. Very high attack through out especially for this set.
DEFENSE: The consistent high defense makes him a good pull in draft. Regeneration is always good and worth having. Willpower is nice enough on a 17 defense, but why not have it on the first click? Toughness makes his long dial a touch longer.
DAMAGE: A consistent two, which matters more now that he has ranged attack option. The battle fury is the real upsetting thing in this character. They give a ranged option to him and then pull it away for half his dial. Close combat expert at the end is great and really makes him lethal in late game.
SCULPT: Fairly standard wolverine pose. Shouldn't he have a gun, since he has a ranged attack? Or does he just throw his shoes at people?
OVERALL:
ˇ Ultra long nice dial of nine clicks, for only 60 points.
ˇ Willpower and the shield team ability are a nice together..
ˇ No willpower on opening click is a shame.
ˇ High solid values on both defense and attack.
ˇ Incontact with Oracle is a must, just to be able to get him to a 3 damage. However, when he is using blades/claws you can up his defense with the card. 18 is hard to hit.
ˇ Very cheap price.
Wolverine is a good example of why reviews are important at times. Old horn hair took me a lot of thought, but in the end he's just not that playable. There are a lot of shiny new features, like a ranged attack, willpower and a very long dial. But the low damage and battle fury mean that the range will rarely be used. He lacks stealth so he'll have to have somebody carry or telekinesis him into battle.
He never hits any really devastating clicks. When he has blades he does not have flurry, when he has flurry he can only hit for two damage and then he has close combat expert you'll probably want to use regeneration. He's so close to being good, but not quite. I guess Heroclix is the revenge of the lesser know characters. While Wolverine lays dormant in fishing tackle boxes, Lockjaw is played four times per team.
PUPPY POWER!
HE RECEIVES 3 OUT OF A POSSIBLE 5 THUMBS UP!
Good, Bad, I'm the Guy with the Clix
Cramcompany
Questions, comments, sexually confused? email me at cramcompany@hotmail.com.
Please no hate mail
PS: YES! A 1 POINT POG! I will except trades and or buy any of the new one point pogs!!!! Send inquires to my email!