REVIEWED BY CRAMCOMPANY
Today we'll be reviewing GeneGrafted Brain from Collateral Damage
Oh dear sweet mother mercy! They made a Hyper Sonic Speed, Telekinesis Brain. You can hit and run with a Brain in a jar. Heroclix simultaneously got much, much, more funny and much, much, more dorky at the same time. This is a piece I show my friends and hide from my girlfriend.
LE: 117 points, No Team
<![if !vml]>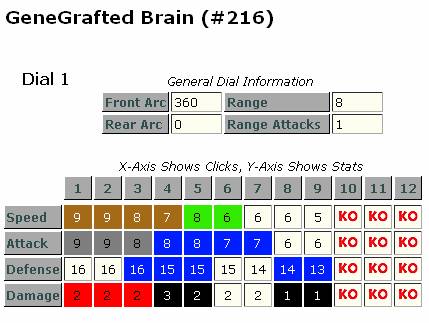 <![endif]>
MOVEMENT: 4 Clicks of Hypersonic Speed with an 8 range. That means he can shoot you from 17 squares away. Now that is an impressive Range. He also has charge…but since you'll be running and shooting, you'll probably end up too far away to use it.
ATTACK: Telekinesis. This is very exciting and may make him.eh..her…eh…BRAIN playable. He can be very good support, by throwing your characters into battle and then being able to move himself. He also has incapacitate, which is sometimes useful. This means he does not HAVE to outwit impervious to damage to an opponent.
DEFENSE: This is a big weakness. 16 is very low for a character that is 117 points. Brain will always have to hit and run. This makes his damage powers somewhat moot. Barrier is great, because this adds volumes to his supporting character niche. Barrier and Outwit is also a very nice combo.
DAMAGE: Grrr….. Ranged Combat Expert and Hyper Sonic Speed can not be used together. Rarely will you want to use it, because of his very hittable 16 defense. But I suppose it is their if you need it. Outwit is great and in some nice places, although the front of the dial would have been the best place for outwit, this will make the brain quite useful for a while.
SCULPT: IT'S A FREAKIN' SUPER BRAIN! YES!
OVERALL:
ˇ I am a big fan of characters that can TK out your entire and then move and shoot.
ˇ Lots of confusing power combos. HSS + Ranged Combat, HSS + BARRIER, TK + RANGED COMBAT
ˇ He fills a lot of cheaper character rolls and is still a decent secondary attacker.
ˇ He's a kick butt fighting Brain!
ˇ Low Defense, but a very long dial.
ˇ He's easy to heal and a great candidate for Life Model Decoy.
ˇ 4 clicks of HSS is 1 more then I would expect on this character
ˇ His attack gets very, very low.
The big thing about the Brain is strategy. He combines for about 3 different characters in one nice piece. What you need to ask yourself is that what you want. Wouldn't Jean Gray, Aurora and a cheap barrier character be a lot better and harder to kill? I believe that more figures are better, but with the cards that you end up stacking on Aurora and your other support pieces the point cost has been driven up.
GeneGrafted Brain is very, very close to being awesome, but needs something small. A 17 defense or a 10 attack with a slower attack drop would have made him fabulous. In Contact would help, but you want to up his damage with that card. Still he is great for an LE and he has a certain intangible that you can not see in his stats. That intangible is he is a Brain on pedestal that has Hyper Sonic Speed! He's too funny not too play.
SHE RECEIVES 3.5 OUT OF A POSSIBLE 5 THUMBS UP!
Good, Bad, I'm the Guy with the Clix
Cramcompany
Questions, comments, sexually confused? email me at cramcompany@hotmail.com.
Please no hate mail