REVIEWED BY CRAMCOMPANY
Today we'll be reviewing Psylocke from Armor Wars
This is the unattractive version Psylocke. She looks like she's from M. Night Shamalan's The Village.
Rookie: 45 points, Shield Team
<![if !vml]>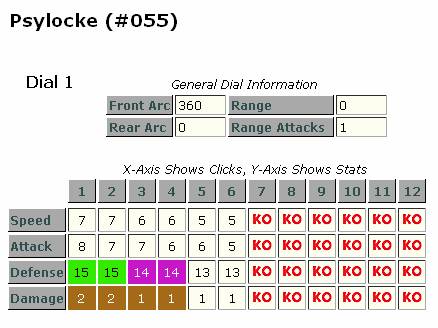 <![endif]>
Experienced: 65 points, X-Men Team
<![if !vml]>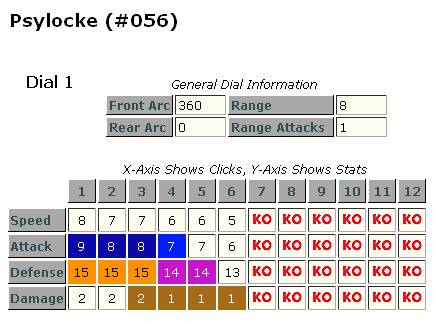 <![endif]>
Veteran: 75 points, X-Men Team
<![if !vml]>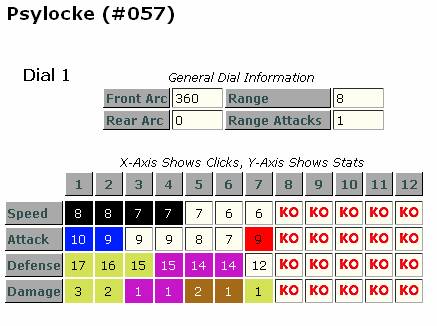 <![endif]>
Which one is better?: I picked this figure, because I've been seeing at least one rookie Psylocke in every tournament. And I must tell you, she is bad. She's a very expensive and hard to kill con artist. She has no range and too low of an attack to do anything. When I see one of them across from me, I know I'm going to win. The experienced is an expensive Asp, minus the stealth. The Veteran is clearly the winner. Stealth is a must for a character with no move and shoot abilities.
WINNER: Veteran
MOVEMENT: Stealth has never proven to be bad. Not even once.
ATTACK: Incapacitate is rarely useful for a single target character. You'll always go with the 3 damage over the Incap….almost always.
DEFENSE: 17 is very respectable. Combat Reflexes is not respectable. Willpower never hurts.
DAMAGE: 3 with exploit weakness is not bad. Perplex and close combat are both okay, but nothing to be excited about.
SCULPT: It's pretty cool. I guess I like all the clear stuff on the sculpts.
OVERALL:
ˇ X-men team….it sucks.
ˇ She is a lot like Talia, who is a very good piece. A good piece that is 20 points less.
ˇ She starts pretty solid, but falls apart in the middle.
ˇ WAY over costed.
ˇ Nice high defense and attack
ˇ Un-push-able. All her stats instantly drop.
ˇ Easily healed and not a character you want to run up to and attack
Psylocke is just very bad. She is pretty much what Spymaster is, but many, many, more points. I would not play her in draft or on an X-Men team. I would not play her in a house with a mouse. I would not play her in a chair with a bear. I would not would not Sam I am. I will leave Psylocke alone and play Batman.
There is no upside to her just leave her alone to collect dust in fishing tackle box.
HE RECEIVES 1 OUT OF A POSSIBLE 5 THUMBS UP!
Good, Bad, I'm the Guy with the Clix
Cramcompany
Questions, comments, sexually confused? Email me at cramcompany@hotmail.com.
Please no hate mail
PS: The Village sucks.