REVIEWED BY CRAMCOMPANY
Today we'll be reviewing Krypto from Collateral Damage
There was a Batdog as well…but apparently people thought it was dumb for BATMAN TO HAVE A DOG! Unlike Superman, where having a superdog just makes sense.
LE: 100 points, Superman Team
<![if !vml]>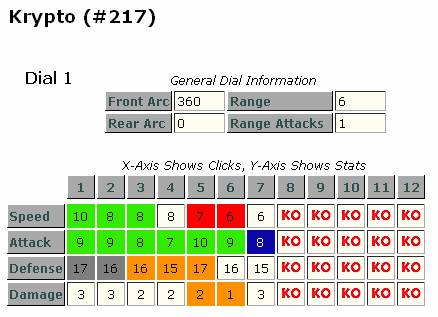 <![endif]>
MOVEMENT: Three clicks of charge. Not too bad. Plus flurry, which is one of my favorite abilities that never really works out well.
ATTACK: Super strength can really help spike that damage. 9 is not a great attack, but the spike in the middle is very nice. Oh and out of nowhere, Psychic Blast!
DEFENSE: Hard to heal, but 17 is always an impressive defense. This is a tough dog to kill, but also a tough dog to heal.
DAMAGE: A little low damage, but again the super strength helps. In Contact with Oracle is probably worth it for this pup.
SCULPT: Yes…yes that is a flying dog with a cape.
OVERALL:
ˇ I wish he had a ten attack.
ˇ Hard to hit
ˇ Very well placed spikes in attack and defense.
ˇ He does have battle fury then psychic blast…which is bad to have one after the other.
ˇ He only has 1 or two damage during his flurry clicks, so he probably will not be able to hurt people too much.
ˇ He's one of the cheapest Ultimate or Superman ally characters and could see a lot of play for that.
ˇ 7 clicks and all that damage reducing power makes him very hard to kill.
Krypto is a very nice reason to buy a clix brick. He'll only be made this one time and will not also be a unique or something lame like that. As far as a character goes he's pretty darn good. He is not game changing and he is not even the best dog in Heroclix, but he is a nice brick and that range will really help him out. He's very reasonably priced, but I've found I almost never play charge characters. It's just how it always works out. Running shot and range is just always better. But he's definitely one of the better charge characters in the game.
SHE RECEIVES 3.5 OUT OF A POSSIBLE 5 THUMBS UP!
Good, Bad, I'm the Guy with the Clix
Cramcompany
Questions, comments, sexually confused? email me at cramcompany@hotmail.com.
Please no hate mail
PS: I missed a few reviews. So here is a quick review of the ones I missed.
ECHO: Best is the Veteran. Rating 4
CAPTAIN AMERICA: Best is the Veteran. Rating 3
Black Scorpion: LE. Rating: 1.5 and only that high, because he is a mystic/Arachnos