Fullmetal Home Page
FMA News
Message Board
Pojo's Books
Card Game
Card of the Day
TCG Tips
Tourney Reports
Top 10 Lists

Anime
Intro
Bios
Episode Guide
DVD List

Contact Us

Magic
DBZ
Pokemon
Yu Yu Hakusho
NeoPets
HeroClix
Harry Potter
Anime
Vs. System
Megaman

Fullmetal Alchemist Anime Info
Character Bios: General Hakuro

Major General Hakuro is one of the top-ranking officers in the military.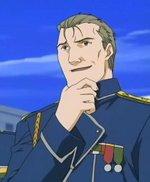 Near the beginning of the series, he is held hostage on a train by Bald while he is returning home from vacation. He also proctored Edward's first Alchemist Exam, as his way of repaying the boy. Hakuro, along with the Führer and Colonel Mustang, were among the selected group of officers judging Edward's practical skills test during the alchemy exam. Shortly thereafter General Hakuro promoted Mustang and Hawkeye one level, and reassigned them to the Eastern Territories to help clean up Lieutenant Yoki's mess. He was later seen leading the military in Lior after Envy, disguised as the Prophet Cornello, rallied the people into a civil war. It was General Hakuro who took Rose hostage and he was ultimately responsible for her being raped repeatedly. His Alchemy Title and uses are unknown, leading to speculation that he may be known for his military strategy only, nothing more. He was in command of the forces sent to suppress Mustang's military uprising in the north against King Bradley. An ambitious man of limited ability, Hakuro rose to the highest levels of the military because he would follow orders without question and was not capable of being a threat to King Bradley.
-divinedragonking


CopyrightŠ 1998-2005 pojo.com
This site is not sponsored, endorsed, or otherwise affiliated with any of the companies or products featured on this site. This is not an Official Site.